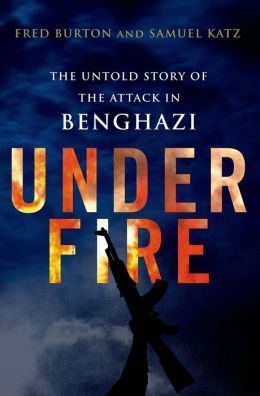 Today I received a signed advance reader copy of the forthcoming book, UNDER FIRE: THE UNTOLD STORY OF THE ATTACK IN BENGHAZI. My good friend (and co-author) Fred Burton sent me the book. Fred Burton is the author of two previous bestsellers, GHOST and CHASING SHADOWS (both of which are highly recommended).

In GHOST, Fred recounts his career in the 1980s as a special counter terrorism agent for the U.S. Department of State. The cases he covers are gripping, compelling and thought provoking. But, as I've often told him, it's the stories he doesn't tell that would make you lose sleep at night. I don't want to know everything that Fred Burton knows.

CHASING SHADOWS recounts Fred's efforts (along with various other law enforcement officials) to solve the cold case murder of an Israeli air force officer. The murder happened in Fred's home neighborhood when Fred was a teenager and after many years, the case was finally solved and the killers brought to justice.

UNDER FIRE is a minute-by-minute account of the devastating attack on a U.S. embassy stronghold in Benghazi, Libya on September 11th, 2012 in which four Americans were killed. I'm sure Fred's narrative will be accurate and well researched and I can't wait to read it. UNDER FIRE goes on sale in early September.

If you want to know what it's really like to be on the front lines in the war on terror, do yourself a favor and read Fred's books. He's a very smart guy who has seen it all and he tells it like it is.