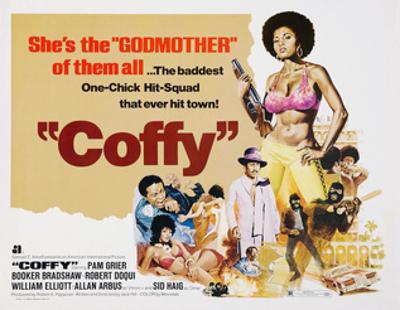 Regular readers of this blog know that I am a big fan of "blaxploitation films", the sub-genre of exploitation cinema that flourished during the 1970s. While I haven't seen every blaxploitation film made during that era, I've thoroughly enjoyed the films I have seen. These movies take me back to my high school years with vintage cars, clothes, music, really bad guys, beautiful women and tons of "R" rated violence. These films were staples on both the inner city grindhouse circuit as well as the suburban drive-ins that were still in operation.
COFFY (1973), which I watched for the first time yesterday, shows exploitation auteur Jack Hill at the top of his game in this violent actioner about a woman out to get revenge. Coffy (Pam Grier), is a nurse at a major metropolitan hospital (the city is never actually named but it's clear it's Los Angeles), whose little sister has become a heroin addict. The girl is in a rehab clinic but the prognosis for recovery doesn't look good. Coffy decides to seek out and kill all of the men responsible for her sister's condition.
And that's just what she does. Coffy is not a police officer, a military veteran or a government agent of any sort. She's a fiercely determined and driven young woman who will stop at nothing to get the evil men who have hurt her sister.
Coffy enters a sleazily underworld of pimps, prostitutes, drugs, mob hit men (including the great Sid Haig), crooked cops and corrupt politicians. The bad guys try to stop her several times using a variety of methods of mayhem but Coffy keeps on fighting. Hand guns, shotguns, sharpened hair pins, razor blades and various vehicles are all instruments of massive carnage throughout the film. At the end, all of the bad men have been dispatched, even a man Coffy loved.
Pam Grier, who had previously appeared in Hill's women-in-prison picture THE BIG DOLL HOUSE (1971), owns this movie from start to finish. With little formal acting training or experience (she was a receptionist at American International Pictures when Hill spotted her and cast her), Grier exudes star power in every frame. She's a beautiful, smart and competent young woman, no shrinking damsel in distress who must be rescued by a more capable man. She kicks ass and takes names and in the process, became an icon of 1970s blaxploitation cinema. Coffy as a character and Grier as an actress, both became positive role models for independent, strong women in a genre and industry dominated by men. Sure it's a low budget B movie but COFFY is nonetheless an important film from the break-all-the-rules cinema of the 1970s.