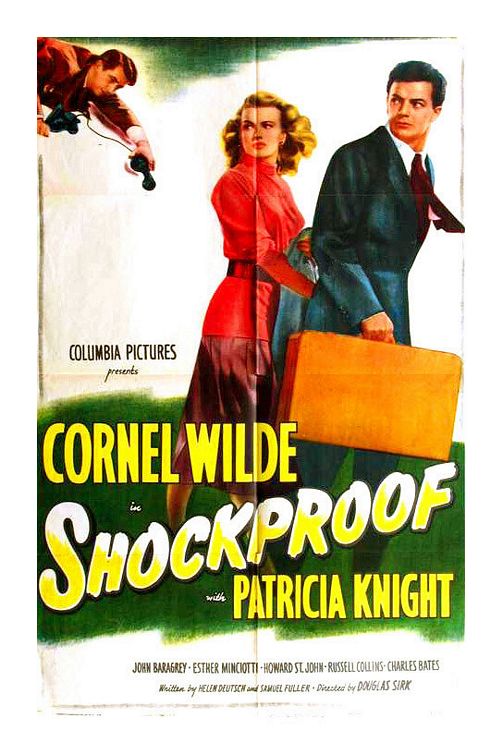 I watched SHOCKPROOF (1949), last night. I had recorded it off of TCM. It's a minor film noir but it's well worth checking out.

Cornel Wilde stars a parole officer in charge of the lovely Patricia Knight, a woman just out of prison where she served time for a murder she didn't commit. She took the fall for a small-time gangster played by John Baragrey. The two keep trying to get back together post-prison but Wilde keeps a sharp eye on his parolee and tries to steer her straight.

Wilde eventually hires Knight to care for his blind mother and moves her into his family's house. He falls in love with her and the two marry (which is a violation of the terms of her parole). That's when things start to go bad. Baragrey knows the truth about Knight and threatens to ruin Wilde's career. He's accidentally shot (but not killed) by Knight.

This brings into play film noir rule number one: when innocent characters do something wrong, something really wrong (like murder), they must not do the right thing and turn themselves into the police. Instead, said characters must always flee (or take it on the lam, to use the vernacular of the times). Wilde and Knight do just that because if they go to the police, Knight will certainly be returned to prison for the rest of her life.

The last act of the film chronicles the duo's desperate attempts to flee the law. They live a hand to mouth existence, scraping by on menial jobs and are always, always on the move. Wilde, who was once an upstanding, decent fellow, is now a fugitive from justice while Knight quickly wearies of the whole charade. As she puts it "they can stop looking for us but we can never stop running." When they think they're about to be arrested (a false assumption), they decide to do the right thing and turn themselves in. The wounded Baragrey states that the shooting was an accident and Wilde and Knight are cleared.. The ending is a little bit too pat and much too happy for a first rate noir (the final scene was written by Helen Deutsch at the studio's insistence) but it doesn't detract from the overall film.

Wilde is good and Knight is a knock-out but the real reason to watch this film are the behind-the-camera talents involved. The screenplay was written by Helen Deutsch and one Samuel Fuller, who went on to a brilliant career as a director of offbeat, iconoclastic films in the 1950s. The director of SHOCKPROOF (a rather generic title, by the way, which doesn't have any thing to do with the story) was Douglas Sirk, the German expatriate director who had a stellar career as the master of melodrama at Universal-International in the 1950s (Note: one of Sirk's best films, WRITTEN ON THE WIND, is on my list of top 100 films). In 1949, SHOCKPROOF was a routine assignment for both men at Columbia Pictures but you can see the seeds of greatness in the script and direction. If you're a fan of film noir, check out SHOCKPROOF. You'll be glad you did.