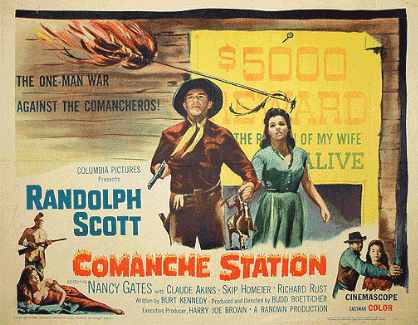 I watched COMANCHE STATION (1960), the other night. It was the fifth and final movie in a box set I have of films directed by Budd Boetticher and starring Randolph Scott.

Scott plays Cody, a loner (as always), who trades goods and a rifle to the Comanches in return for a captured woman, Mrs. Lowe (Nancy Gates). The two make their way to Comanche Station, a stagecoach stop where Cody intends to put Mrs. Lowe on the next stage back to civilization. The station is deserted but not for long as three men ride in pursued by bloodthirsty Comanches. The men and Cody drive the Comanches off in a well-staged battle. The leader of the men, Ben Lane (Claude Akins), served in the military with Cody, a term of service which did not end well. Lane tells Cody that there's a $5,000 reward for the return of Mrs. Lowe and he intends to earn that money for himself.

The four men and one woman must now cross Comanche territory on their way to town. There is a great deal of tension between Cody and Lane and Lane and his men wonder why Mrs. Lowe's husband (who has put up the reward money), didn't search for her himself. We find out Cody's motivation for rescuing Mrs. Lowe, one man (Skip Homeier) is killed by the Comanches, Lane sets up an ambush for Cody (and kills his other partner Dobie (Richard Rust), an innocent, naive cowpoke) before the final showdown between Cody and Lane. Mrs. Lowe is returned to her husband at the end of the film and we find out why Mr. Lowe didn't go out in search for her.

COMANCHE STATION is a tight little western. It has great on-location wide screen cinematography (there are no interior shots in the entire film) and the cast is good. Scott was excellent at playing flinty, tight-lipped loners and Claude Akins (who must have appeared in hundreds of TV and movie westerns) makes a good bad buy. Boetticher's direction is assured and the screenplay, by Burt Kennedy, moves things along at a nice clip, alternating action scenes with character and plot development moments. COMANCHE STATION is a good little western that's well worth your time. Recommended.