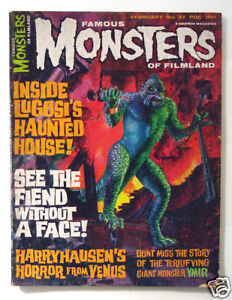 FAMOUS MONSTERS #37 sports a nifty cover painting of the Ymir, "Harryhausen's Horror from Venus" as the cover copy reads. At the time I bought this issue in 1966, I had yet to see 20 MILLION MILES TO EARTH. The photographs that accompanied the article absolutely mesmerized me. Here was a way cool looking monster from outer space on a rampage in Rome! I had to see this movie!

It took me several years to finally see the film and I wasn't disappointed. I've seen it several times over the years (I've got it on DVD) and I always enjoy watching it. Great '50s sf and terrific stop motion animation by the legendary Ray Harryhausen. Other features in this issue of FM include Lugosi's Haunted House and FIEND WITHOUT A FACE (another terrific little sf film).

By the way, I don't know if Lugosi's house was actually haunted or not as I've never visited that domicile. However, I have visited his grave site in a Los Angeles cemetery. It was a real thrill to see the final resting place of a horror icon. At least, I think Bela's buried there. You never know about those vampires.