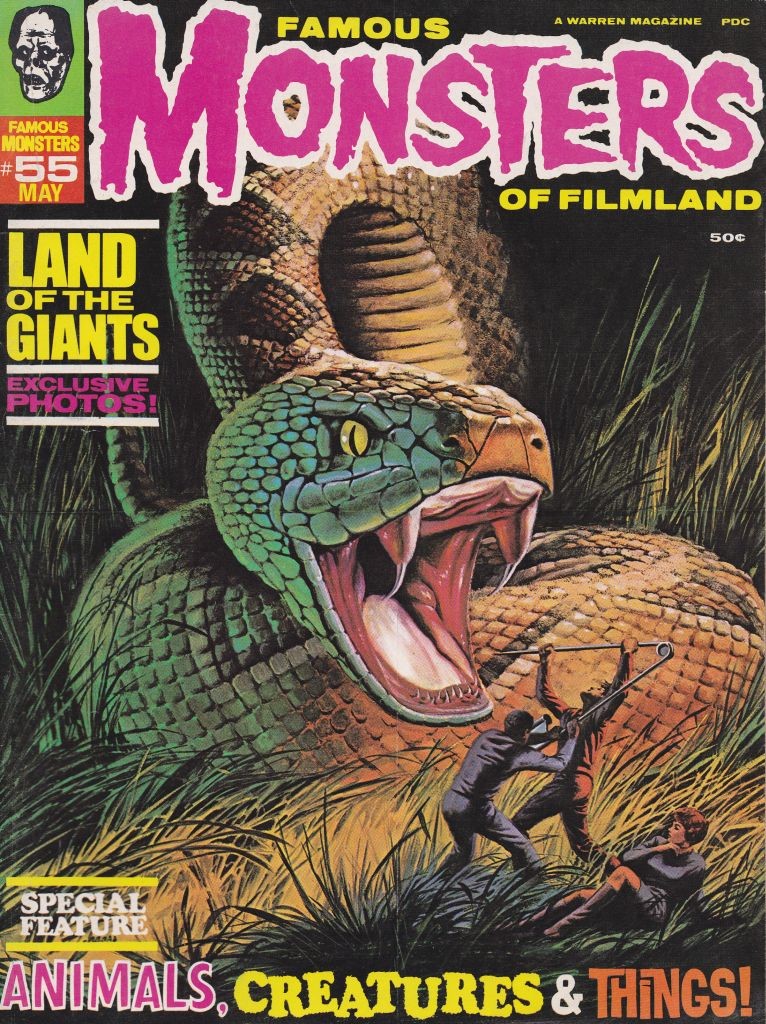 I'm surprised that Forry didn't go with a line that read "Animals, Beasts & Creatures!" for an A-B-C style cover copy. Nonetheless, FAMOUS MONSTERS #55 has a great cover spotlighting the then new ABC-TV series LAND OF THE GIANTS.

This same artwork served as the box art for the Aurora LAND OF THE GIANTS plastic model kit, which I purchased and built. In addition to the big snake/little people kit, there was a kit of the Spindrift, the spaceship that brought the earth men and women to the planet of the giants. I never had that one.

I do recall having a LAND OF THE GIANTS tie-in paperback novel, published by Pyramid and a few issues of the Gold Key LAND OF THE GIANTS comic book. But for some reason, I didn't watch LAND OF THE GIANTS every week. I saw it a few times and I know that I enjoyed it but I didn't see nearly as many episodes of this show as I did the other science fiction television shows produced by Irwin Allen: LOST IN SPACE, VOYAGE TO THE BOTTOM OF THE SEA and TIME TUNNEL. I've got the complete TIME TUNNEL series and Season One of VOYAGE on DVD.