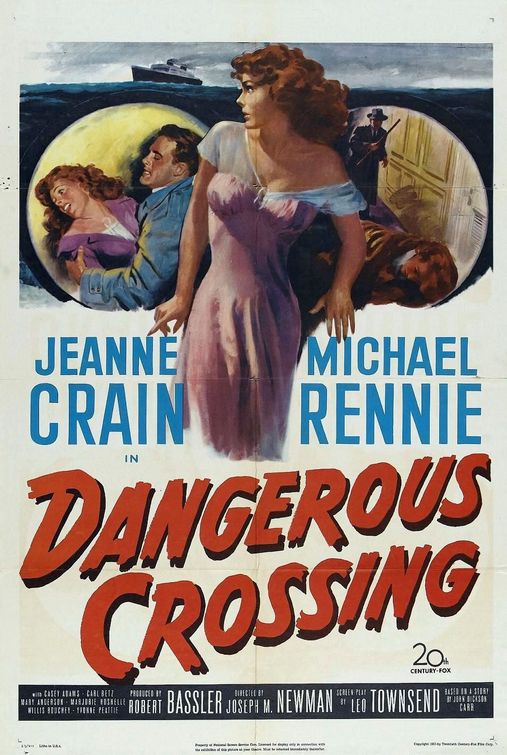 The other movie my buddy Kelly Greene and I watched yesterday was DANGEROUS CROSSING (1953), another film noir produced by 20th Century Fox.

The lovely Jeanne Crain stars as a newlywed woman who embarks on a transatlantic crossing with her new husband Carl Betz. The two have only known each other for a few days and were just married the night before.

Once on board, Betz tells Crain he must go deposit some money with the ship's purser and for her to meet him in the bar in a few minutes. She goes to the bar and waits for her husband who never shows up. He has disappeared without a trace from the ship and she has no evidence to prove he really exits. She has no wedding ring, he was in possession of her passport and ticket, her luggage isn't in the stateroom that they originally checked into. Is she mad or the victim of a sinister scheme?

Ship's doctor Michael Rennie sympathizes with Crain and tries to help her but it as more facts become known, it appears more and more likely that she's suffering a mental breakdown. Then Crain receives a phone call from Betz which proves that he's still alive and on the ship. But where? What is going on?

DANGEROUS CROSSING is a tight, sharp little movie. There's a woman in jeopardy in an enclosed and isolated space. There are some atmospheric scenes that take place on the deck at night and in the fog. There is the question of her mental stability. All of these elements are noir tropes.

Crain is beautiful, Rennie is a pleasure to watch as always (he would have made a great Sherlock Holmes) and Betz is good as the no-good husband. Much of DANGEROUS CROSSING was filmed on standing sets at 20th Century Fox that were built for TITANIC (1953) and also used in GENTLEMEN PREFER BLONDES (1953).

DANGEROUS CROSSING is a good little film, one well worth watching if you're a noir aficionado. I thought it was a much better film than BLACK WIDOW which was the other noir we watched.