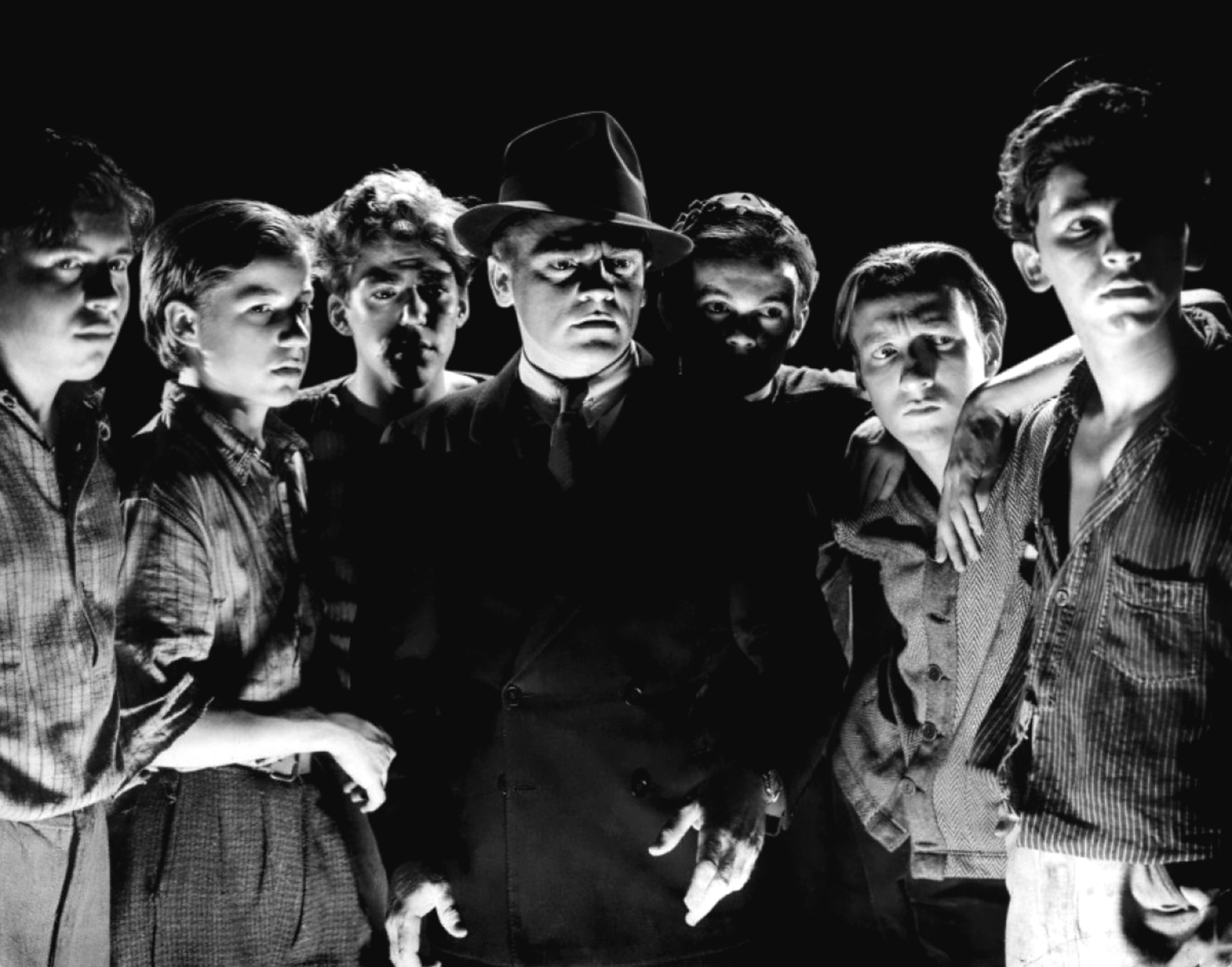 Tonight's the last night to catch the ANGELS WITH DIRTY FACES/I AM A FUGITIVE FROM A CHAIN GANG double feature at the Paramount Theatre. In case you can't make it, here are my film notes.
American movie goers in the 1930s needed escape more than ever before. The country was in the midst of the Great Depression and audiences flocked to films that allowed them to take their minds of their daily troubles for a few hours and live in a fantasy world of perfectly realized escapist fare. Musicals were popular, as were comedies of all stripes. Westerns, historical dramas, even horror films, offered something different, a much needed distraction from reality.
One major Hollywood studio built its' reputation by producing films that were more realistic and more reflective of life (especially urban life) in America. Warner Brothers, through a series of gangster, crime and social melodramas, held contemporary America up to a magnifying lens and gave audiences an unvarnished look at the ills plaguing society at the time.
But make no mistake about it. As socially relevant as these gritty, tough films were, they weren't documentaries or entirely full of political rhetoric and the polemics of propaganda. These films were, first and foremost, entertainments. They had to tell a compelling story, using engaging characters who struggle to overcome their problems. By the final reel, some semblance of justice always prevailed. The evil met their fitting ends and the good lived to fight another day. Two of the best examples of these types of films are on display here.
In I Am A Fugitive From A Chain Gang, war hero Paul Muni gets out of the army and while his old job awaits him, he wants to try and make it on his own. He travels around the United States but can't find work. This forgotten man ends up in a flophouse. He goes with a stranger (Foster) to a diner, hoping to get a free meal. Foster tries to rob the place and is killed. Muni is arrested for being his accomplice and is sentenced to a Southern chain gang.
Life in prison is hell. The men are treated like animals, work endlessly breaking rocks with sledgehammers and get little food or rest. There are constant beatings dished out by the sadistic guards. Muni eventually escapes and becomes a fugitive. He finds work with a construction company in Illinois where he rises to the executive level. But he is forced to marry a greedy young floozy (Farrell) lest she exposes the truth about his past. She drops the dime on him anyway and Muni returns to the Southern prison for 90 days. He decides to trust the system but soon discovers that the powers-that-be are not happy with him and his outspoken public condemnation of the chain gang system.
I Am A Fugitive From A Chain Gang
is one of the earliest social protest films and one of the strongest. Muni's hardened, desperate face and his angry, scratchy voice are powerful reminders that decent men could be destroyed by the injustice and insensitivity that had come to characterize America. The final shot is shockingly depressing and the whole film is daring, not only because of its socially conscious theme but also because of its pre-Code depictions of sex.
The screenplay by Howard J. Green and Brown Holmes was based on Robert Elliott Burns's autobiography of the same name that was serialized in True Detective magazine. I Am A Fugitive From A Chain Gang received three Academy Award nominations: Best Picture, Best Actor (Muni) and Best Sound.
Angels With Dirty Faces
is a standout gangster film that has often been copied but never equaled. It's exciting and funny with surefire direction from Michael Curtiz and a terrific performance by James Cagney in one of his best roles. Cagney is a tough gangster who helps out boyhood pal Pat O
Brien, a priest who has been having trouble keeping some unruly teenagers (the Dead End Kids) off the streets and in his gym. Unfortunately, the kids start to idolize Cagney and his life of crime, and admire the way he snubs his nose at the law. When Cagney is eventually arrested and sentenced to death, the boys are all impressed by how bravely he takes it all. O'Brien asks Cagney for one final favor, "for the sake of the boys" and Cagney's last scene is unforgettable. It's the stuff of movie legend.
Rowland Brown, who wrote the screenplay, was rumored to have underworld connections and many of his scripts contain the theme that crime does pay. When James Cagney was offered the part of the doomed gangster Rocky, his agent advised him not to take it, fearing the role of a cowardly criminal would hurt Cagney's reputation. Cagney was enthusiastic about playing the part as it gave him an opportunity to show his broad acting range.
After Angels, Cagney and director Michael Curtiz worked again on Yankee Doodle Dandy (1942) and Captains of the Clouds (1942), while co-star Humphrey Bogart and Curtiz teamed up for Casablanca (1943). Cagney and Bogart worked together again in The Oklahoma Kid (1939) and The Roaring Twenties (1939).
Angels With Dirty Faces
received three Academy Award nominations: Best Director, Best Actor (Cagney) and Best Screenplay, Original Story.