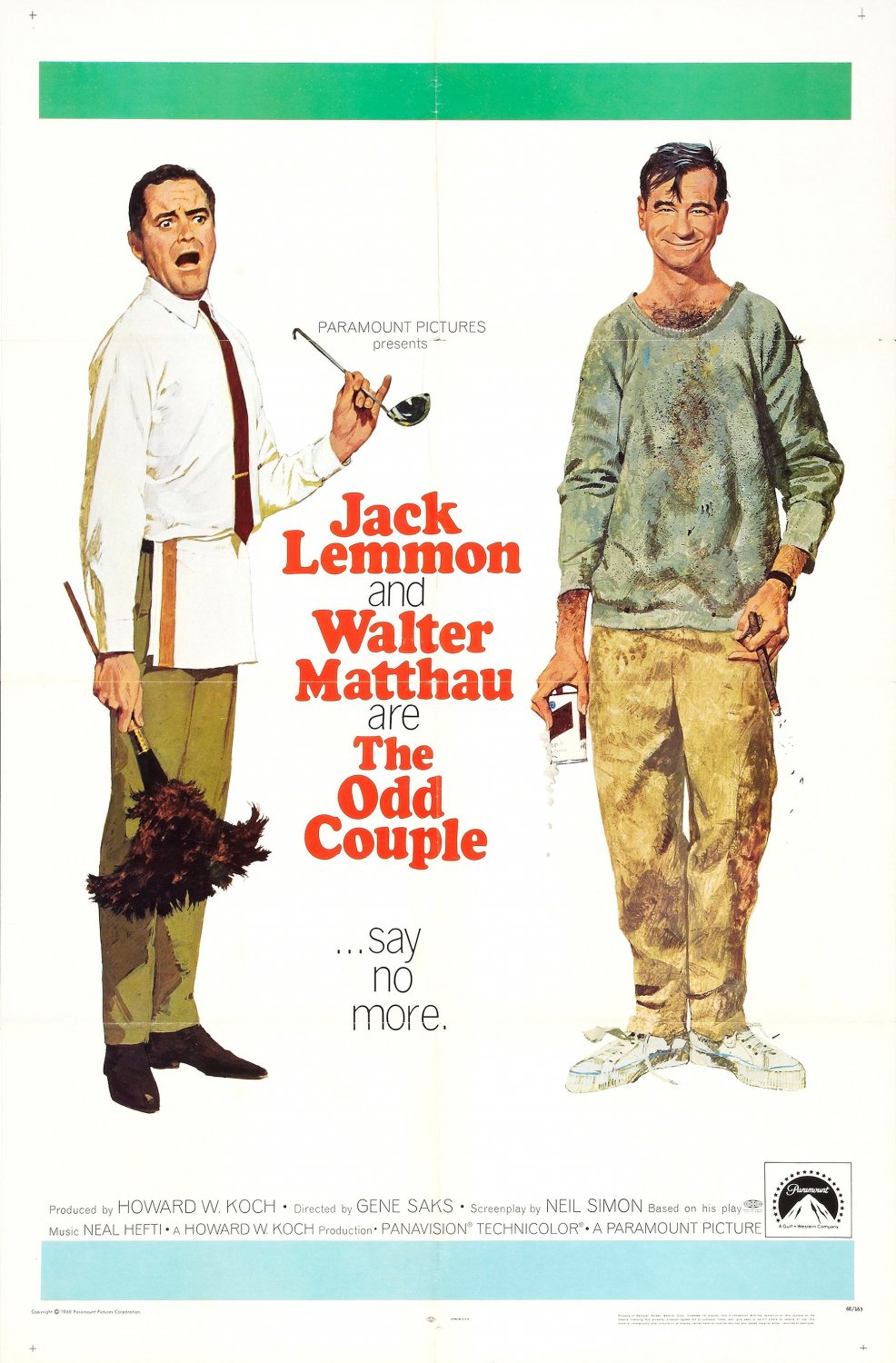 I know for a fact that I first saw THE ODD COUPLE at the old Fox Theatre on Airport Blvd. when it first came out back in 1968. I saw it with my neighbor, Brykerwoods classmate and good buddy John Rideout. I loved it at the time. I thought it was uproariously funny.
I still do.
Judy and I watched it again last night thanks to a broadcast on TCM. I can't begin to tell you how many times I've seen this movie. I come to it every so often over the years and it's like seeing an old friend again. You know all of the jokes but you still laugh because they're still funny. THE ODD COUPLE is like your favorite pair of old slippers, well worn but still sturdy enough and oh-so-comfortable.
Jack Lemmon and Walter Matthau had previously appeared together in Billy Wilder's THE FORTUNE COOKIE (1966). Matthau won a Best Supporting Actor Oscar for his part in the film. But it's in Neil Simon's THE ODD COUPLE, that the sublimely brilliant comedy team of Lemmon and Matthau took root and fully blossomed. Was there anyone better at playing the mid-century, urban, nervous everyman than Jack Lemmon? Was there ever anyone better at playing a lovable slob than Walter Matthau?
There are some memorable supporting characters: Vinnie (John Fiedler), Speed (Larry Haines), Roy (David Sheiner) and Murray (Herb Edelman) as the poker buddies and Gwendolyn (Carole Shelley) and Cecily (Monica Evans) as the "Coo Coo" Pigeon sisters. Director Gene Saks opens things up from time to time by shooting some scenes on the streets of New York City but 90% of the film is just two men in one apartment.
Sure it's basically a filmed play abut everything about this movie works. From the cast, to the Oscar nominated screenplay by Neil Simon (who wrote the Broadway play that the film is based on), to the bouncy, memorable score by Neal Hefti, to the sharp cinematography of Robert B. Hauser, who uses the wide screen format and a mobile camera to keep the action moving throughout the eight-room apartment set. Watching the film again last night for the first time in several years, I was struck by how good-looking it is. THE ODD COUPLE is a first rate production from top to bottom.
The film grossed over $44 million dollars in 1968, making it the fourth highest-grossing film of the year. It earned two Academy Award nominations: Best Adapted Screenplay and Best Film Editing. It was followed by the long running hit ABC-TV series starring Tony Randall and Jack Klugman as Felix and Oscar, respectively. There's been an animated cartoon series starring a fussy, neatnik cat and slob dog. There's even been a version with an all female cast (I suppose they had "Coo Coo" Pigeon brothers in that one) and countless stage productions over the years. THE ODD COUPLE has been revived on Broadway and has become a staple of local theater groups for years. With the right actors in the lead roles, a production of THE ODD COUPLE is money in the bank. Judy and I saw a good one a few years back at the Austin Playhouse with our friend Bernadette Nason as one of the Pigeon sisters.
But it's the original film that remains the best incarnation of this material. Jack Lemmon is Felix Ungar and Walter Matthau is Oscar Madison the way Sean Connery is James Bond. I laughed my ass off watching these guys when I was 12 and I laughed heartily again last night. I hope to continue to do so from time to time over the years ahead.