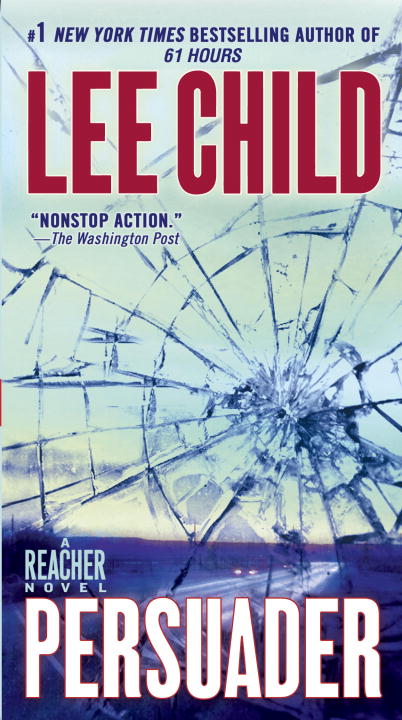 PERSUADER (2003), the seventh Jack Reacher novel by Lee Child, opens with a bang, a dare-you-to-stop-reading scene involving an attempted kidnapping and gun battle that finds Reacher (all 6 foot, 5 inches, 250 pounds of him) rescuing the would-be-kidnap-victim (a crime lord's son), killing a cop and fleeing with the young man in tow.
But it's a sequence worthy of the best MISSION: IMPOSSIBLE episode you've ever seen as all is not what it seems.It's all part of an elaborate ruse designed to get Reacher within the fortress-like home of Beck, a rug merchant who is secretly an international arms dealer. Beck's boss is Quinn, a figure from Reacher's past. And for Reacher, this one's personal.
Reacher finds himself a prisoner in the house, a heavily guarded structure situated on the rocky, windswept Maine coast. But no prison can hold Reacher for long. He escapes to gather information and kill some bad guys, then returns to get closer to Beck and finally Quinn himself in an explosive showdown.
There's plenty of mayhem and violence here including several fights involving guns and fists. The plot moves swiftly and surely with flashback scenes skillfully inserted into the present day narrative. Reacher is really up against some tough characters in this one but you know he's going to win. And the scene in which Reacher enters a roomful of villains with a Persuader model shot gun in each hand and quips "remember me?" to the main villain is right out of the best Clint Eastwood action film ever made.
PERSUADER is the twelfth Reacher novel I've read and it's every bit as good as all of the others. For the record, I've read: KILLING FLOOR (1997), DIE TRYING (1998), TRIPWIRE (1999), RUNNING BLIND (2000), WITHOUT FAIL (2002), THE ENEMY (2004), ONE SHOT (2005), THE HARD WAY (2006), BAD LUCK AND TROUBLE (2007), NOTHING TO LOSE (2008) and GONE TOMORROW (2009). The twentieth Jack Reacher novel, MAKE ME, is scheduled to be published later this year. As long as Lee Child keeps writing these addictive page-turners, I'll keep buying and reading them.
For those you not familiar with one of the greatest action heroes in modern pulp fiction, Jack Reacher is an ex-MP, a homeless (by choice) adventurer who finds intrigue and danger wherever he goes. He's part Clint Eastwood, part Sherlock Holmes and if you haven't read these books, you need to start doing so. Immediately