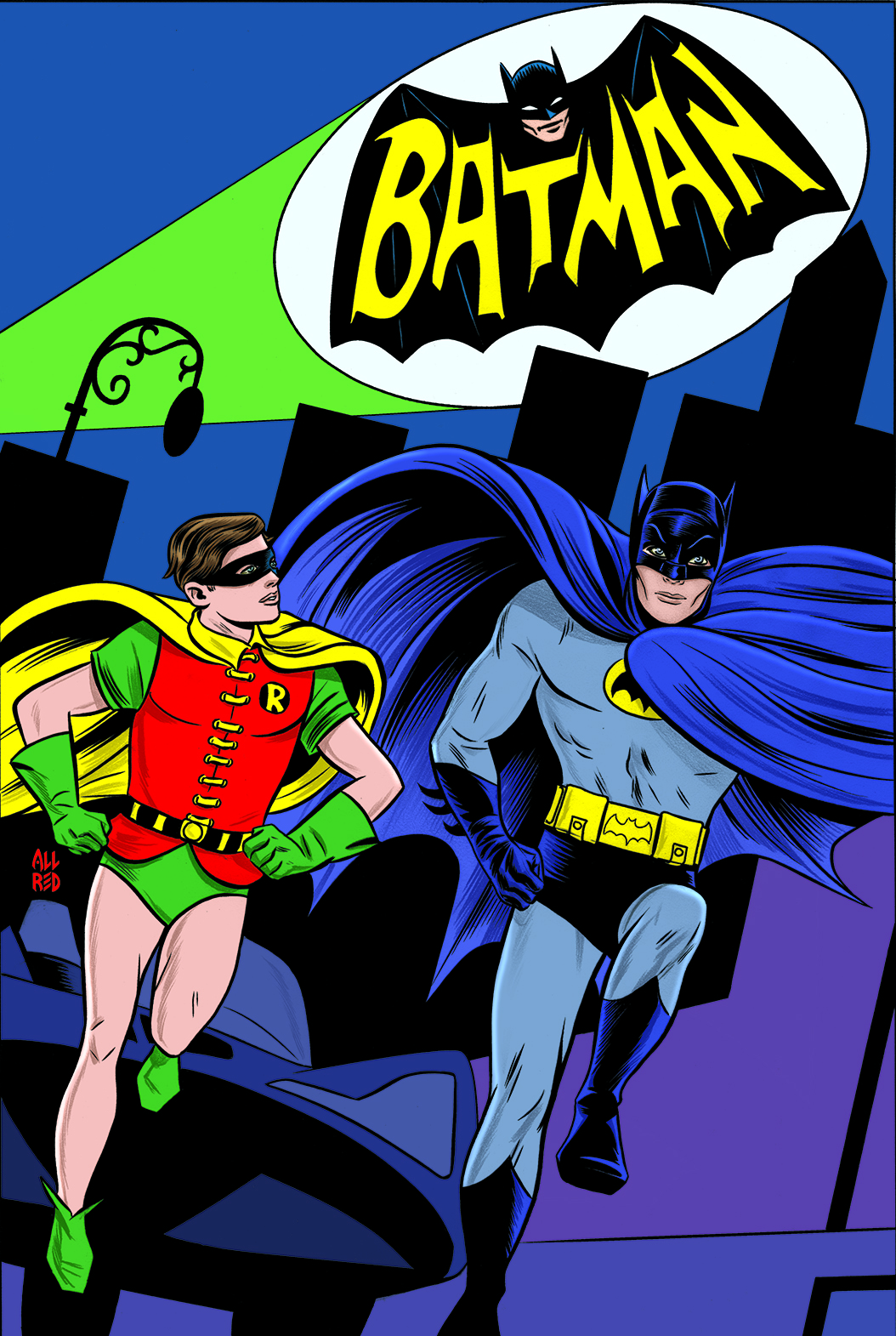 Indulge me, if you will, in a little game of "what if?"
Back in the 1960s, Dell and Gold Key Comics published many comic books based on then popular movies and television series. There was a wide variety of material adapted into comics form. Some of the comic book series based on television shows ran for many issues, others were short lived and of course, all of the comic book versions of films were one shots. I have many of these comics in my collection and I'm always looking to add more. While some are semi-faithful to the original source material, others take more than a few liberties (see Gold Key's STAR TREK series). The bottom line is they're all fun. These comics appeal to comic book fans, film buffs and TV show addicts. And if you're like me, I fall into all three of those categories.
One of the odd things I've thought about over the years (among a plethora of other odd things), is this: what if, during the 1960s, when the ABC-TV series BATMAN was at the height of its' popularity, Dell or Gold Key Comics had published a tie-in comic book based on the immensely popular television series? Oh, of course, we all know that it could never have happened. DC Comics owned the characters and they were already cashing in on the popularity of the television caped crusader in such titles as BATMAN, DETECTIVE, WORLD'S FINEST, JUSTICE LEAGUE OF AMERICA and THE BRAVE AND THE BOLD (my favorite!). Batman was everywhere in the DC comics of the era and at times it seemed that the character was in real danger of overexposure.
But what if a BATMAN TV comic had been published by Dell and/or Gold Key? What would the stories have been like? What artist would have been assigned to the title? Even money says it would have probably been illustrated by Jack Sparling, a lower tier artist whose godawful work graced a multitude of comics from a variety of publishers in the 1960s. But imagine what a Gold Key BATMAN comic would have looked like if it was drawn by the great Dan Spiegle or, even better, the legendary Russ Manning? I can only dream.
Recently DC Comics began publishing an ongoing BATMAN '66 comic book series that features stories and artwork based on the visual style of the classic television show and featuring likenesses of the actors and actresses that appeared on the show. I received a trade paperback collection of BATMAN '66 Volume 1 for this past Christmas and I just finished reading it this afternoon.
It's a ton of fun! All of the stories are by Jeff Parker with artwork provided by a diverse line-up of artists including Jonathan Case, Ty Templeton, Joe Quinones, Sandy Jarrell, Ruben Procopio and Colleen Coover. All of these artists have an appropriately "cartoony" style that perfectly fits the stories. Batman and Robin face off against The Riddler, Catwoman, The Penguin, Mister Freeze, Chandell, Lorelei Circe, The Joker, Egghead, The Mad Hatter, The Clock King and The Sandman while Batgirl solos against Catwoman. Everything is done in the tone and style of the '60s television series and for the half hour it took me to read this volume, it was 1966 again.
And that's a good thing.