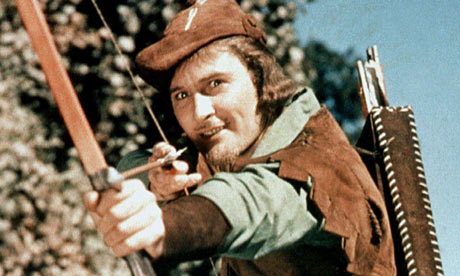 I'm scheduled to introduce THE ADVENTURES OF ROBIN HOOD (1938), tomorrow (Sunday) evening at the Paramount Theatre at 6:20 p.m. Come on down and see this magnificent film the way it was meant to be seen: on the big screen. Here are my film notes.
Robin Hood of Sherwood Forest, he of the feathered cap, green costume, bow and arrow and "rob from the rich, give to the poor" credo, ranks as one of the most enduring of all fictional heroes, appearing in all sorts of media over the last one hundred years or so. In addition to the original source material, the historical novel by Sir Walter Scott, Robin Hood has appeared in print in dozens of other books for both adults and children. He's had several comic book series devoted to his adventures and he served as a clear inspiration for at least two comic book superheroes: DC's Green Arrow and Marvel Comics' Hawkeye. Countless toys, especially bows and arrows, and other merchandise such as costumes and play sets have been manufactured over the years. But it's in the realm of film and television where Robin has found his greatest fame.
2010's big budget action/adventure Robin Hood, starring Russell Crowe, is one of over sixty theatrically released films, eleven made-for-television movies, one made-for-video feature and nine television series that have been made either about Robin himself or using his name in the title. Space precludes a complete listing of all of these productions but any discussion of Robin's cinematic career must begin with the Douglas Fairbanks silent swashbuckler Robin Hood (1922), which to date remains the second greatest Robin Hood film ever made.
Other notable films include Robin and Marian (1976), Richard Lester's portrait of Robin and Marian as an older couple (played to perfection by Sean Connery and Audrey Hepburn), Robin and the 7 Hoods (1964), a modern updating of the legend starring Frank Sinatra and the Rat Pack, Robin Hood: Men in Tights (1993), a send-up of the genre courtesy of Mel Brooks and Kevin Costner's turn as the ace archer in Robin Hood: Prince of Thieves (1991).
Robin Hood and his cohorts were recast as animals in Walt Disney's animated feature film Robin Hood (1973) but the best cartoon version is far and away Robin Hood Daffy (1958), a Warner Brothers Looney Tunes short starring Daffy Duck and Porky Pig. On television, Richard Greene starred in The Adventures of Robin Hood from 1955 to 1958 while Mel Brooks spoofed the genre for the first time in the short lived When Things Were Rotten (1975). As durable a hero as Robin Hood has proven to be, it is certain that there will be still more movies and television series produced about him and his legend for years to come. Some of them may even be good but none will equal the film on display here.
In The Adventures of Robin Hood, Robin (Flynn) and his Merrie Men of Sherwood Forest make things difficult for sly Prince John (Rains) and his evil henchman (Rathbone) while loyally waiting for the noble King Richard (Hunter) to return from the Crusades and reclaim his throne from his brother. Of course, Robin and his men take from the rich and give the poor back the money Prince John had unfairly taxed them. That's the basic set-up for the greatest costume adventure film ever made.
Dashing Flynn and the luminous de Havilland are as romantic a screen couple as Romeo and Juliet (they even have a balcony scene). And the final sword-fight between Flynn and Rathbone (who, in real-life was the superior swordsman) is a classic, complete with gigantic shadows on castle walls, a visual signature of director Michael Curtiz who took over directing duties during production from William Keighley.
The super-saturated look of the three-strip Technicolor photography lends the proceedings a storybook look and feel as do the sets, costumes and a rousing score by Erich Wolfgang Korngold. These and all of the other production values are first rate and they combine to transport viewers back to a truly enchanting world. As if that's not enough, the supporting cast is full of such veteran character actors as Alan Hale (Little John), Eugene Pallette (Friar Tuck), Una O'Connor, Montagu Love and Melville Cooper. The casting of Errol Flynn as Robin Hood was pivotal to his career and reinforced his swashbuckling screen persona which was first introduced in Captain Blood (1935). These two films and the many that followed secured Flynn's standing as a cinematic champion of the downtrodden and a true Hollywood hero.
The Adventures of Robin Hood
was nominated for Best Picture of the Year and won Oscars for Best Film Editing, Best Original Score and Best Art Direction. The Paramount Theatre is proud to present this glorious newly restored print of a legendary film. Sit back, relax and enjoy. They don't get any better than this.