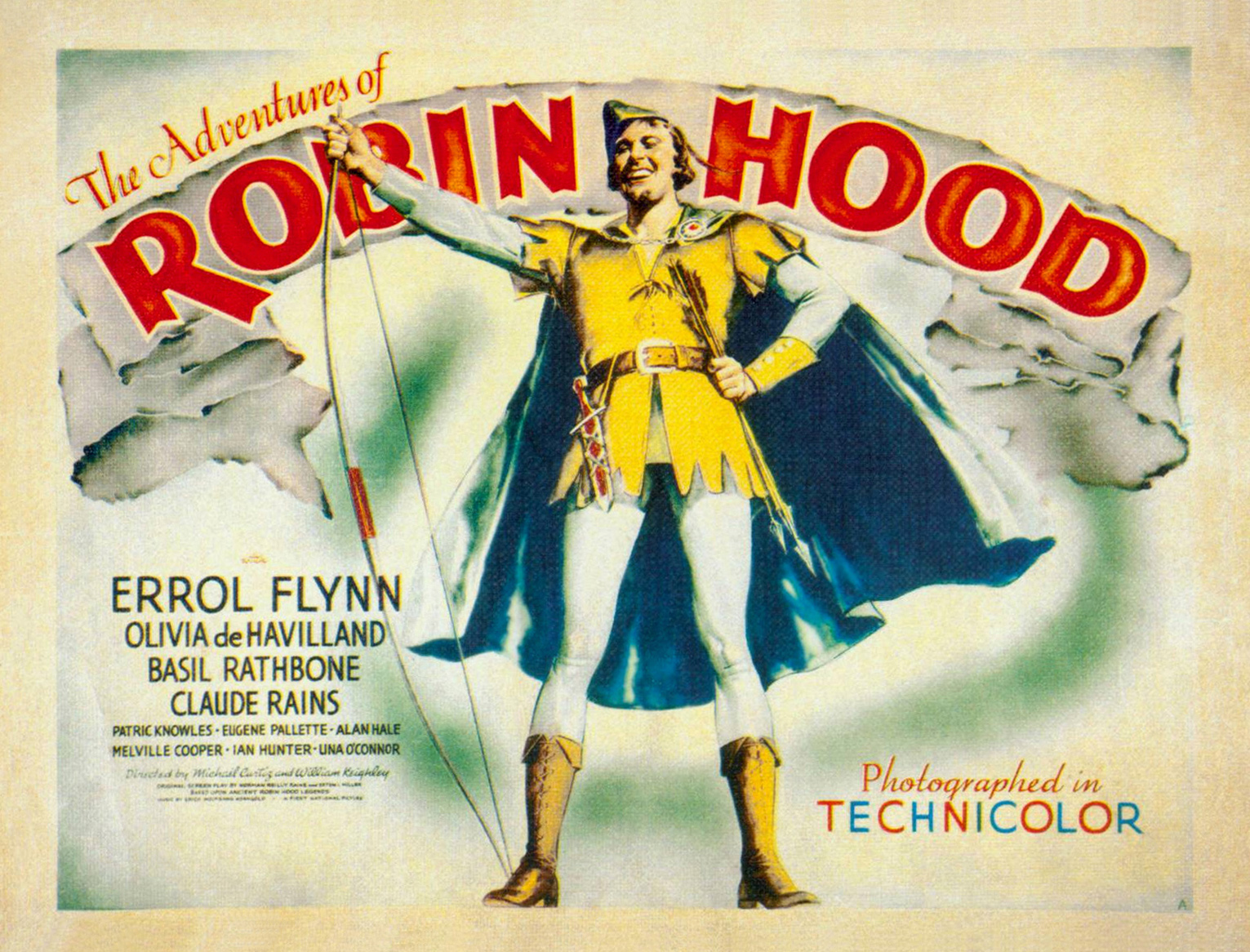 I had a great time introducing THE ADVENTURES OF ROBIN HOOD (1938) at the Paramount Theatre last night and I enjoyed the film immensely. It's corny. It's old-fashioned. But it's also extremely heroic, exciting, thrilling, colorful and romantic and I love it. I've now seen it twice on the big screen at the Paramount and many times in different home video formats including VHS and DVD. But my most memorable experience of this film remains the first time I ever saw it.
It was the early to mid 1970s. Austin's first comic book shop, the N.E. Mercantile Company, was located in the 1200 block of North Lamar, right next door to the legendary Terminix Pest Control Company and their iconic, giant bug outdoor advertising sign.
How many people (including myself and various buddies) contemplated heisting that giant bug over the years? N.E. Mercantile was owned and operated by Jay Knowles and the shop, which featured a variety of back issue comic books, fanzines, artwork, movie posters, paperbacks, etc. was a regular Saturday afternoon destination for me.



One summer, Jay decided to throw a pizza, beer and movie party at the store. It was by invitation only but all of the hardcore comic book and movie fans in Austin at the time were there. My neighbor, school classmate and fellow comic book collector Don Wallace and I attended the shindig together. There was pizza. There was a keg of Lone Star beer. And there was THE ADVENTURES OF ROBIN HOOD.




In those days, long before the advent of any home video medium, our opportunities for seeing classic films were somewhat limited. There was always television but we were at the mercy of station programmers as to what was shown and when. Remember, at that time, we had no way to record anything on television and watch it at a later date. The Paramount was in it's last incarnation as a first-run movie theater. The newly opened Dobie Theatre in Dobie Mall occasionally showed classics (I remember seeing both KING KONG and THEY DIED WITH THEIR BOOTS ON there). And of course, there was the University of Texas, where there were classic films shown somewhere on campus almost every night of the week per semester.




And then there were those few among us who owned actual 16mm prints of real, honest-to-gosh movies. One of these film collectors was a fellow named Bob Magnuson and he had quite a collection of films. He was the envy of many of us at the time. Imagine owning your own print of a classic movie and being able to watch it anytime you wanted. Sheer bliss!




It was Bob Magnuson who supplied the projector and the print of THE ADVENTURES OF ROBIN HOOD that long ago summer evening. Jay Knowles came through with the screen (a white sheet temporarily tacked to the wall), the pizza and the beer. Errol Flynn provided the wonder. Even though I've seen the film under many other circumstances over the years, that first viewing in a cramped back room of a comic book shop amid long boxes, cups of beer, slices of pizza and other admiring, awestruck fans, was truly magical. It's a night I'll never forget.


Watching THE ADVENTURES OF ROBIN HOOD again last night, I was struck by just how much Flynn's visual interpretation of Robin Hood


resembles this comic book character
And how much Basil Rathbone, as Sir Guy,
looks like this fella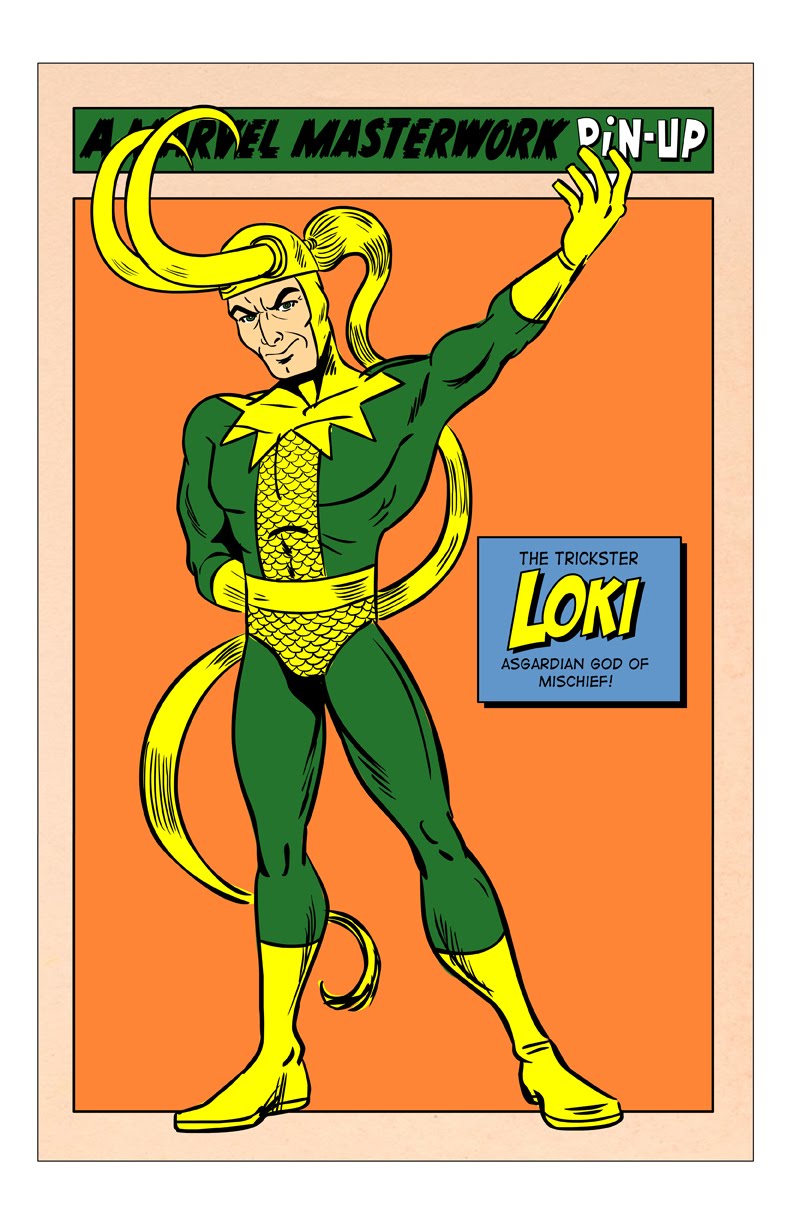 Fandral and Loki, were both originally created by Stan Lee and Jack Kirby and while I have no proof that either of them used THE ADVENTURES OF ROBIN HOOD as a direct reference for character visuals, I'm willing to bet that both Stan and Jack saw the film when they were young and those images must have stayed in their subconscious for many years.

Finally, I was struck by the thought that the offspring of this woman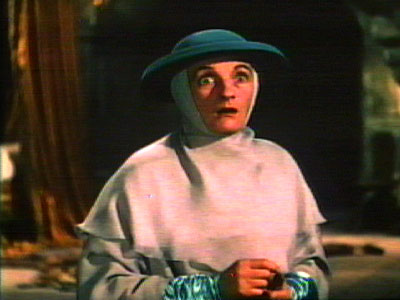 would look something like this