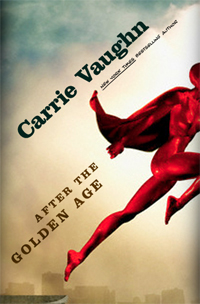 I finished reading AFTER THE GOLDEN AGE by Carrie Vaughn yesterday. It's a novel about super-heroes, a sub-genre of fantastic fiction that seems to be growing by leaps and bounds.
The novel is the story of one Celia West, a twenty-five year old accountant who just happens to be the daughter of two super-heroes: Captain Olympus and Spark. Her parents, along with The Bullet and Dr. Mentis, comprise The Olympiad, the crime-fighting team supreme of their city. Trouble is, Celia, unlike her parents, has no super powers whatsoever. She's constantly rebelling against them and seeks desperately to establish her own life, career and identity.
But being the child of super-powered public figures, Celia is the objective of constant kidnapping attempts. One of the most persistent threats comes at the hands of The Destructor, The Olympiad's arch-enemy. Celia finds herself a pawn in the deadly game played between the heroes and villains but she gets a chance to redeem herself and become a heroine in her own right when she begins to investigate the mysterious origins of all of these super folks (good and bad).
She finds some family secrets that are better left undisclosed and her actions lead to the death of one of the supporting players but Celia finally emerges from the shadows of her parents and stands as her own woman at last.
AFTER THE GOLDEN AGE is a quick read. The characters are well-drawn and there are enough plot twists and surprises to keep you guessing. It's well written but it's not spectacular prose. In short, it's a fun book for comic book fans who are looking for a new perspective on super-heroes. Thumbs up.