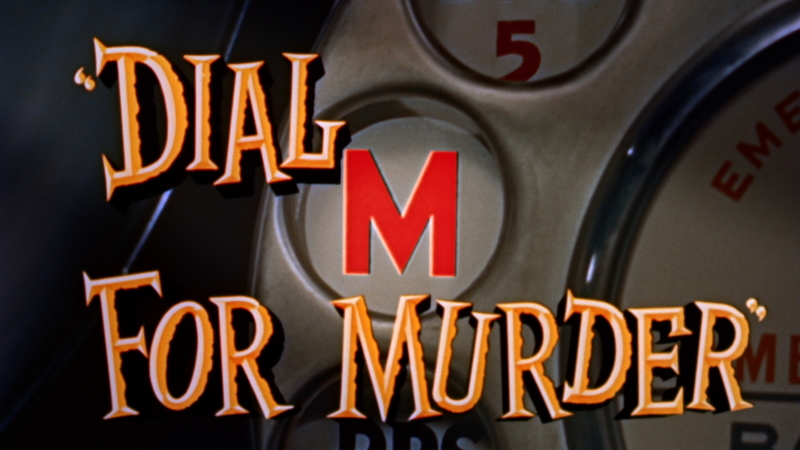 As I mentioned in my post about Dirty's earlier today, Judy and I enjoyed seeing DIAL 'M' FOR MURDER on the UT campus last night. The stage production was at the B. Iden Payne Theater and featured a cast of student actors. One of the interesting things about this production is the use of music during key moments of suspense and drama throughout the play. The music that is heard is from Alfred Hitchcock's VERTIGO. The magnificent score to that film was by Bernard Herrmann and Judy and I both recognized it the first time we heard it last night. I wonder if any other audience members recognized it as well. The play was written by Frederick Knott in 1952 and filmed, in 3-D no less, by Alfred Hitchcock in 1954. The movie version stars Grace Kelly, Ray Milland, Robert Cummings, Anthony Dawson and John Williams (the actor, not the composer).

The story is a familiar one. Cheated-upon husband plans to murder his wife and creates the perfect alibi for himself so that no suspicion will fall upon him. He blackmails an old college chum into performing the evil deed but things do not go as planned. The would-be victim wife ends up killing her attacker and is subsequently charged and convicted for the murder. The husband looks to have gotten away with it but things start to unravel and his "perfect crime" turns out to not be so perfect.

Seen in retrospect, DIAL 'M' FOR MURDER is a blueprint for the long-running television series COLUMBO. We see the killer make his plans. We see a murder occur. We know who is responsible for all of this and then, in the second act, enter a police detective who keeps asking "just one more question" as he tries to put the pieces of the puzzle together. The suspense in DIAL 'M' lies in watching the murderous husband get caught in a scheme of his own devising, not in figuring out "whodunit."

Several years ago, we screened DIAL 'M' at the Paramount as part of the Summer Film Classics series. It was not the 3-D version but it was a visually interesting film nonetheless because every other reel of the film was somehow flip-flopped. In one reel, a door of the apartment set would be on the right, Ray Milland would part his hair on the left, etc. In the next reel, the same door would be on the left of the frame, Milland's hair would be parted on the right and so on. The entire film played like this. The funny thing is, the magnetic soundtrack strip was unaffected by the whole thing. It didn't hurt the enjoyment of the film, but it did make for some disorienting interior design moments. Wait, wasn't that picture over there a minute ago?