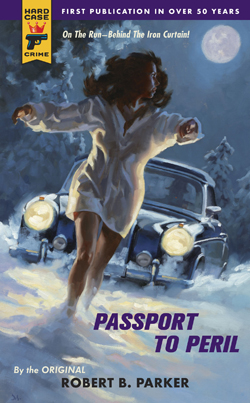 I finished reading PASSPORT TO PERIL by Robert B. Parker yesterday evening. This 1951 Cold War spy thriller is a bit of a departure from the usual crime noir material released under the Hard Case Crime imprint but it's a fast paced thriller with plenty of twists and turns.
The author is the original Robert B. Parker, a WWII foreign correspondent who is not to be confused with the late Robert B. Parker who wrote the Spenser series of private detective novels.
In PASSPORT, an American journalist travels behind the Iron Curtain to learn what happened to his brother, an Army Air Force pilot who was shot down during WWII. Our hero, John Stodder, is traveling on the famed Orient Express with a fake passport. He encounters Maria, a beautiful young woman who is on the run from the man who murdered her employer. Turns out that the passport Stoddard thinks is fake is real and belonged to the murdered man. Before you know it, he and Maria are jumping off of the train in the middle of the night and plunging into an adventure involving a die hard Nazi, a deadly femme fatale, Russian officers, unlikely American spies and a must-have envelope containing information about various scientists who worked for the Germans in WWII.
PASSPORT TO PERIL is a brisk spy thriller that is a true product of it's time and place. Parker covered Eastern Europe before, during and after the war and he had first hand knowledge of the the politics, cultures, cities and ways of life he writes about. Great literature? No, but it's a solid piece of intrigue and espionage. Give it a read and see if you don't agree.