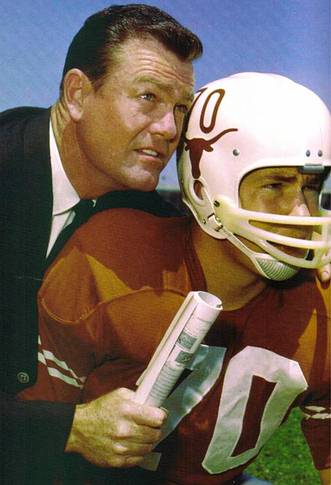 When I was a kid, my buddies from the neighborhood and school would regularly gather in the front yard of my house for a game of touch football. Understand, we did this without any adult supervision whatsoever. We had no protective gear, no referees, no coaches. It was just choose up sides and play.
As we played, neighbors would drive by in their cars, honk and wave. I knew every one that lived on my street and what car they drove. I was always happy to wave at a neighbor and have them wave back. But there was one neighbor that we waved to with a bit more enthusiasm than the rest. Sometimes that neighbor would pull his car over, roll down the car window and visit with us for a few minutes. Those were conversations that were definitely worth stopping our games for. That neighbor wasn't just any guy. He was a legend.
He was Darrell Royal.
I grew up on a street in West Austin that was paved, not in bricks of gold, but in bricks of burnt orange. Consider this roll call of neighbors: Rooster Andrews, a Longhorn sports legend and owner of a chain of sporting goods stores in Austin, Jack Maguire, executive director of the UT Ex-Student's association, Mike Cotton, former UT football player and, down at the end of the street towards the cul-de-sac, Coach Darrell K. Royal.
I can't say that I was close friends with Coach Royal but he did know me and would call me by name whenever he stopped to chat. Can you imagine what that meant to an adolescent Longhorn football fan? No matter how busy he was or what stress he was under at the time, he always had time to share a few kind words with the neighborhood kids.
My parents knew Coach Royal and his wife Edith better than I did. I've got pictures around here somewhere of my mom and dad at cocktail parties with Darrell and Edith, along with other friends and neighbors.
I recall that when Coach Royal's daughter Marian died, my mother and I took some food down the street to the Royal's house and we shared a short visit with them in the midst of their grief.
Once, neighborhood scuttle-butt got out that there was going to be a party at the house at the end of the street where the publisher of The Austin American-Statesman lived. Coach Royal would be in attendance of course (he didn't have far to walk!) along with the featured guest of honor, actor Fess Parker, a UT alumni who starred as both Davy Crockett and Daniel Boone on television. I remember all of us kids trying desperately to figure out a way to crash this for adults, by-invitation-only soiree. We never did, of course, but just knowing that Davy Crockett himself was at a party at the end of my street for one night made me crazy.
On December 6th, 1969, undefeated Texas played undefeated Arkansas in what was dubbed "The Game of the Century". It was college football's 100th anniversary and the game between the rivals would decide which team would be crowned national champion. President Richard Nixon attended the game and planned to visit the winning team's locker-room after the game and bestow the title of national champs upon that team.
Texas was behind 14-0 at the beginning of the fourth quarter when Longhorn quarterback James Street scrambled for a long touchdown run and then went for and made the two-point conversion. But it was later in the game, with Texas facing a fourth-down and three, that history was made.
I was watching the game at home on television and was going nuts pulling for the 'Horns. If they didn't win this game, I would be devastated. This was the biggest college football game I'd ever seen and literally everything (in terms of college football) was at stake.
Coach Royal famously said, "there are three things that happen when you throw the ball and two of them are bad." On this crucial play of plays, Royal rolled the dice and instructed Street to throw the ball rather than run it.
The pass, Street to Randy Peschel (who was double covered), was more than a simple throw and catch. It was a toss into eternity, into immortality, into Longhorn legend and glory. Next to Vince Young's run to daylight against USC in the BCS Championship Game, Street to Peschel remains the greatest play in the history of Longhorn football.
When the game was over and Texas had been named the National Champions, my neighbor buddy John Rideout and I grabbed a can of white spray paint and headed for the street outside of Coach Royal's house. We painted an enormous, white "#1" on the street, a numeral that lasted for quite a long time. I'm sure that this was technically an act of vandalism but we didn't know or care about that. All we knew was that our Horns were the champs and we wanted to let our neighbor and friend know how much that meant to us.
Finally, I'd like to tell you that Coach Royal got some of his more innovative plays from us, the neighborhood kids running around in my front yard. I'd like to say that we gave him the fabled "wishbone" formation, but history proves me a liar on that count.
However, we did have a couple of imaginative plays that Coach Royal could have used if the circumstances ever dictated. One involved sending a wide receiver completely around a neighbor's house to emerge on the far side wide open for a touchdown pass. Another required a receiver to open the unlocked door of a car parked at the curb, crawl through the car and emerge open for the pass while the defender was still climbing his way over the front seat. We actually ran these plays at least once.
They worked.
Hook 'em.