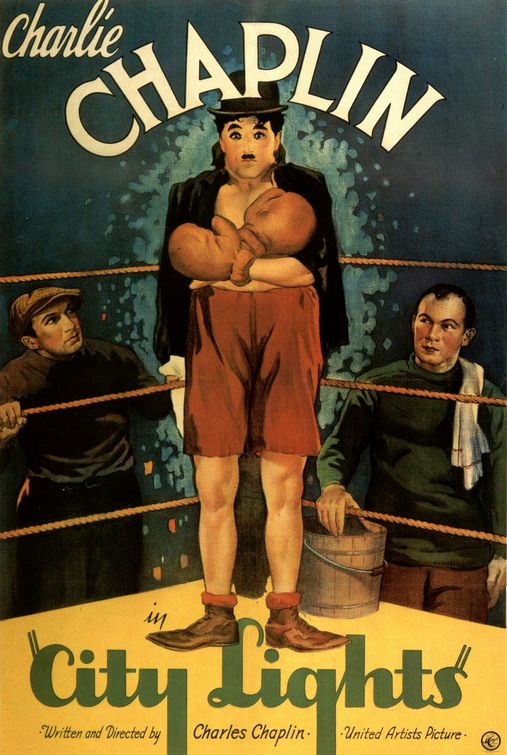 "Yes, I can see now."

Judy and I watched CITY LIGHTS (1931) the other night. It was the first viewing of this classic film for both of us. We thoroughly enjoyed it. I don't know how I've managed to live this long without seeing this highly regarded film. But it certainly lives up to it's reputation as a masterpiece and one of Charlie Chaplin's greatest films.

Although filmed in the early years of the sound era, CITY LIGHTS is basically a silent film. There is a score (composed by Chaplin) and sound effects but all of the dialogue is on inter title cards. The film is referred to as a "romance in pantomime" in the opening credits and it's as if Chaplin was refusing to abandon the media that made him an immortal.

Chaplin (who also wrote, produced and directed the film) stars as the beloved Tramp. Here he falls in love with a beautiful blind flower girl (Virginia Cherrill). She thinks he's a millionaire and he goes to great lengths to maintain that persona and help the girl. The Tramp is befriended by an actual millionaire but they're buddies only when the rich man is drunk. When he's sober, he kicks the Tramp out. Forced to raise money for his love, the Tramp takes jobs shoveling manure (there's a great sight gag involving an elephant) and as a boxer (a delightfully choreographed fight sequence).

But things take a turn for the worse when the Tramp is arrested for stealing money from the millionaire. He's innocent of course but he goes to jail anyway. While he's away, the blind girl has an operation to restore her sight and goes to work in a nice flower shop. When the Tramp is finally released from prison, he meets the flower girl once more and she realizes that not only is she seeing his physical appearance for the first time, she's also finally seeing his inner beauty as well. It's a terrific ending, one that's guaranteed to put a little lump in your throat to go along with the laughs provided in the rest of the film.

Yes, CITY LIGHTS is as good as I've always heard it was. It certainly deserves it's reputation as one of the all time greats. But I still think that Buster Keaton's THE GENERAL (1927) is the greatest silent comedy film ever made.