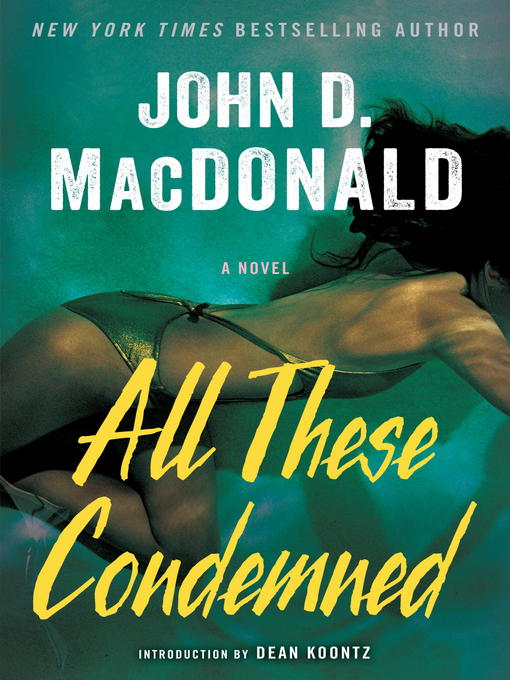 I finished reading ALL THESE CONDEMNED by John D. MacDonald this afternoon. I know I first read this novel (originally published in 1954 and reprinted this year in a handsome trade paperback edition by Random House) some thirty plus years ago but I didn't remember anything about it.

In ALL THESE CONDEMNED, MacDonald tries his hand at the traditional, formal murder mystery. Eight people are spending the weekend at the lakeside home of cosmetics magnate Wilma Ferris. All of the people, three women and five men, are employed in some capacity by Ferris. She has mistreated and abused every one of them and is about to fire some of them. Every one of them has a reason and a motive for wanting to see her dead.

MacDonald opens the story with the recovery of Wilma's dead body from the lake. It appears she drowned but a closer inspection of the body reveals evidence of foul play. What was at first believed to be a tragic accident is now under investigation as a murder. Who did it? Was it the television comedienne whose show was sponsored by Ferris's company? The crafty PR man? The stuffed shirt from the advertising agency? The business manager who knows how over exposed the company really is? The muscle bound "artist"? Or the mousy wife of one Ferris's managers, a woman who worships Wilma when everyone else hates her guts?

MacDonald turns the traditional mystery novel on it's head by having each character narrate two chapters apiece during the course of the novel. One chapter each is told from the point of view of the character before the murder occurred with the other chapters relating the action after the murder. A couple of characters are fairly quickly eliminated as suspects but there are plenty of possibilities to consider before the penultimate chapter in which the killer is revealed.

ALL THESE CONDEMNED combines the jigsaw puzzle aspect of the traditional drawing room mystery (without the presence of a detective to solve the crime) with liberal doses of MacDonald's world view and cynical, mid-century philosophies. The characters are all strongly developed and there's a bit of a surprise at the end. If you're a MacDonald fan, you need to read this book. If you're not a fan of this terrific writer, read ALL THESE CONDEMNED and become one. Recommended.