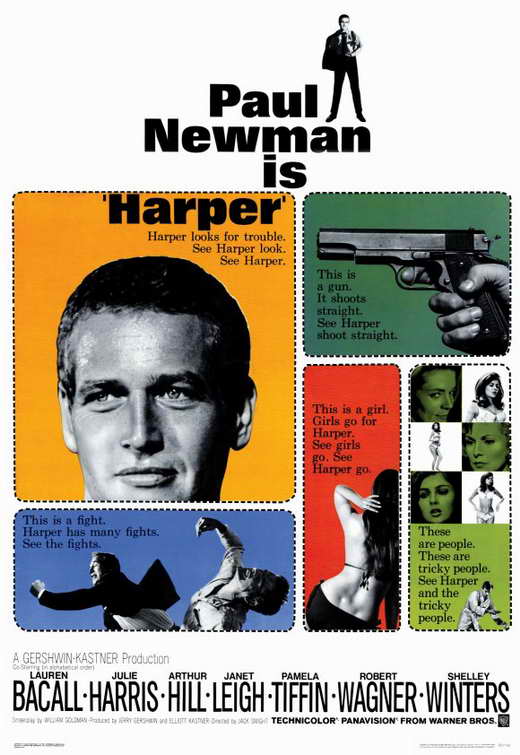 "I used to be a sheriff until I passed the literacy test."
I watched HARPER (1966) this afternoon. It's one of the "H" films that Paul Newman made in the 1960s, a string of hits that include THE HUSTLER, HUD, HOMBRE and COOL HAND LUKE. The film is based on the novel, "The Moving Target" by American hard-boiled mystery maestro Ross MacDonald. MacDonalds' detective hero was named Lew Archer but when Newman was signed to the lead (a part that Frank Sinatra turned down), he asked that the character's name be changed to "Lew Harper" and that the title of the film be changed to simply HARPER to keep the string of "H" films going.
Harper is hired by a rich woman (Lauren Bacall) to find her missing husband. He's both a very wealthy man and a absolute bastard who keeps company with some very unsavory characters. Harper has been recommended for the job by the missing man's attorney (Arthur Hill) who is an old friend of Harper's. Accompanying Harper in his investigation is the missing man's private pilot (Robert Wagner) and the millionaire's hot-to-trot daughter (played by the gorgeous Pamela Tiffin). The trail leads to a washed up former film star (Shelley Winters), her shady husband (Robert Webber), a drug-addict blues singer (Julie Harris) and a whacked out modern-day "monk" (Strother Martin, who made a career out of playing toady characters who fully deserve the pistol whipping they eventually receive). Janet Leigh co-stars as Harper's estranged wife.
The screenplay by William Goldman has plenty of smart-ass bon mots (like the one quoted above) for Newman to toss off as only he could. I've not read the original novel (although I do have a copy of it) so I can't vouch for how faithful an adaptation it is. Maybe I'll read the book this year and report back. I do recall seeing this film on first release but I don't remember any of the particulars and I'm sure that the rather complex plot sailed right over my ten-year-old head.
Newman resurrected the Harper character in the '70s for a sequel, THE DROWNING POOL in which he co-starred with his wife Joanne Woodward. There was a short-lived television series entitled ARCHER, with Brian Keith in the title role, that ran on NBC-TV for three months in 1975. But for my money, the best interpretation of the Archer character was in the TV series THE OUTSIDER in which Darren McGavin starred as private detective David Ross. The series ran for one season on NBC-TV from September 1968 to September 1969. Although the series was not based on Archer or any of MacDonald's works, the character and the milieu he operated in had a definite Ross MacDonald vibe.
HARPER is not a great film but it's an entertaining one. Newman, one of my favorite actors, is always fun to watch, the supporting cast is solid and everything is capably directed by Jack Smight. Recommended.