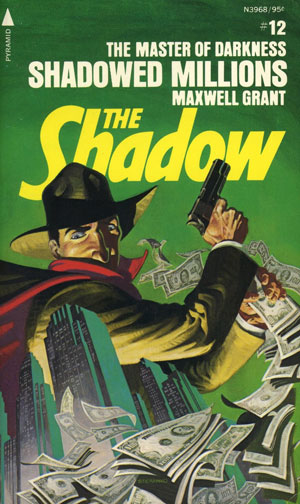 1933 got off to a great start with the publication of SHADOWED MILLIONS by Maxwell Grant (the house name that Shadow creator and chief scribe Walter Gibson worked under) on January 1st. It was the 21st published adventure of the pulp crime fighter. That's the 1970s paperback reprint pictured above, published by Pyramid Books and sporting a gorgeous cover by master comic book artist Jim Steranko. I finished reading this book last night and it's a corker.

Alvarez Legira, consul of the newly created South American republic of Santander, comes to New York City to acquire ten million dollars from a group of wealthy financiers and investors. Ten million dollars is a hell of a lot of money in 2014. In 1933, it was an absolutely astronomical sum. Legira secures the loan but it's not clear if he will use the money to boost his country's economy or if he plans to abscond with all of it for himself.

Crooks get wind of the deal and start maneuvering to cut themselves in for either a piece of the action or the entire amount. Legira hires a look-a-like to throw off the bad guys but it's too little, too late. Murders occur and Legira is forced to go into hiding with the money while he waits for a boat to arrive off of the coast of Long Island.

Of course, The Shadow is mixed up in all of this and he races against the clock to prevent a criminal mastermind from stealing the money. There's a terrific gun battle in the third act, followed by a hell-and-gone car chase and shootout before the final showdown aboard a yacht where The Shadow engineers a masterful switcheroo.

SHADOWED MILLIONS is fast paced and fun. It's far from the greatest Shadow novel ever written but it's a good one nonetheless. Thumbs up.