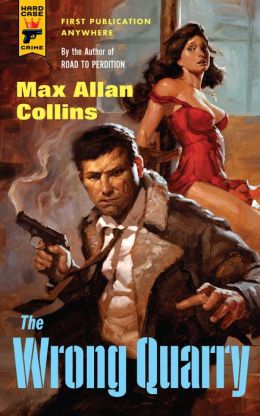 "It bobbed and pulsed and stared at her like a creature in a Ray Harryhausen movie."

I spent part of the 4th of July reading (and finishing) THE WRONG QUARRY by Max Allan Collins. It's another terrific trade paperback from Hard Case Crime, which is my current favorite publisher.
Quarry is a professional hit man who has starred in several novels by Collins including THE FIRST QUARRY, QUARRY IN THE MIDDLE, THE LAST QUARRY and QUARRY'S EX. All of those titles have been published by Hard Case Crime and I've read 'em all.

In this one, which takes place in the early 1980s, Quarry operates as a freelance killer. He's in possession of files belonging to the now departed Broker (whom Quarry killed in a previous adventure). The Broker was a mysterious middleman who assigned Quarry and other assassins their assignments. Quarry's m.o. is to pick a killer from the Broker's files, follow him (or her) to their current target, intercept the killer and kill them, then retrieve payment from the intended victim to find out who ordered the hit and kill that person also.

In THE WRONG QUARRY, he trails a hit man to the small town of Stockwell, Missouri. He soon discovers that the man is part of a two man team sent to dispatch one Roger Vale, a gay man who runs a dance studio in town. Many of his pupils are teenage girls and one of his star students, Candy Stockwell, has gone missing and is presumed dead (although no body has been found). Someone in the town thinks Vale killed Candy and that person hired the two man team to kill the dance instructor.

Quarry quickly dispatches the two killers and gets Vale to pony up the fee needed for Quarry to find the person behind the hit. Quarry's investigation leads him to the town's wealthiest citizen but before Quarry can drop the hammer, evidence is discovered that makes him realize he's after the wrong quarry.

THE WRONG QUARRY is a fast paced read and tons of pulpy, hard boiled fun. Collins has Quarry tell us the story in first person and his narrative is peppered with many quips and asides to the reader. There's brutal violence and some steamy sex scenes and even though Quarry is a killer, we're pulling for him to succeed in his quest to eradicate other, more heinous murderers. Thumbs up.