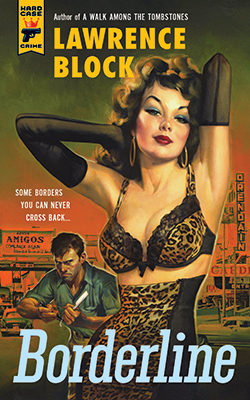 I finished reading BORDERLINE by Lawrence Block this afternoon. The story was first published in 1962 and just re-issued in trade paperback last month by Hard Case Crime. But in both 1962 and 2014 the verdict is the same. BORDERLINE is one of the sleaziest books I've ever read. And that's not a bad thing.

Set in El Paso and Juarez, BORDERLINE tracks five people on a collision course with fate. There's Marty, the professional gambler who rolls the dice on a night with Meg, the bored divorcee who seeks excitement and finds Lilly, the beautiful hitchhiker lured into a live sex show by Cassie, the redhead with her own private agenda and Weaver, the madman, the killer with a straight razor in his pocket, on the fun from the police and determined to go down swinging. That's taken verbatim from the back cover of the book by the way but it doesn't begin to describe what these pages hold.

Sex is on the menu and lots of it, both straight and gay. Three of the five main characters engage in several lesbian sex acts. There's alcohol. There's marijuana. There's gambling. And there's violence, very explicit violence.

What BORDERLINE doesn't have is a real hero, a central character upon which we can pin our hopes for escape from this lurid, sordid hell of an environment. Oh, sure, Marty manages to defeat the mad killer Weaver but it's at literally the last minute, after his razor blade has tasted the blood of several female victims. Instead, Block weaves his narrative among the five characters, slowly and steadily constructing a path upon which they will all eventually collide.

In addition to the title novel, BORDERLINE contains three short stories by Block which were originally published in men's adventure and pulp magazines. The stories are THE BURNING FURY (originally published in OFF BEAT DETECTIVE STORES, Feb. 1959), A FIRE AT NIGHT (originally published in MANHUNT, June 1958) and STAG PARTY GIRL (originally published in MAN'S MAGAZINE, Feb. 1963).

Lawrence Block is one of my all-time favorite writers and the work on display in this volume shows a writer at the beginning of his career, learning the ropes, earning his chops and paying his dues. None of this material is great literature but it's all competently done and it certainly delivered the goods of sex and violence to the largely male readership of the publications where this stuff originally appeared. But be warned. BORDERLINE is pretty raw stuff. It's an in-your-face, no-holds barred walk on the wild side of two cities. It's not for the faint at heart or the prudish. This is one lean, mean, down and dirty piece of pulp fiction.

I loved every minute of it.