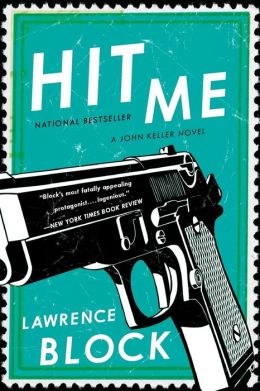 I finished reading HIT ME by Lawrence Block yesterday evening. Published in 2013 it's the fifth book Block has written about professional killer John Keller. It is also apparently, the last book Block plans to write. If that is indeed true, he's going out where he's always been: on top.

Lawrence Block, a Grand Master of the Mystery Writers of America has won multiple Edgar and Shamus Awards and countless international prizes. He's been writing since the late 1950s and while I haven't quite read everything he's written, I've loved everything that I have read that had his name on it. Block could and did do it all. He crafted many superb stand alone crime thrillers, many of which have been brought back into print by Hard Case Crime (my favorite publisher, by the way). In fact, the first Block novel I read was GRIFTER'S GAME, an early reissue from Hard Case. From there, I was totally and completely hooked on his books.

I've read many other stand alones by Block as well as entries in three of his ongoing series: the Matthew Scudder novels (a New York City PI who is also a recovering alcoholic), the Bernie Rhodenbarr mysteries (a professional burglar who runs a New York City bookstore and is always getting involved in murder cases) and the aforementioned Keller series.

Keller is an interesting character. He kills people for money and he's very good at what he does. He approaches each assignment as a puzzle to be solved and watching Keller plan and commit his crimes is part of the pleasure of the books. Keller is also a husband and father and rock solid family man who manages to keep his bloody business separate and compartmentalized from his wife (who is fully aware of what he does) and daughter. Oh, and he collects stamps.

Stamp collecting takes about half of the narrative space in HIT ME with the other half devoted to murder for hire. HIT ME, like other entries in the Keller series, isn't so much a novel as it is a series of connected novelettes. In each, Keller has a crime to commit, a puzzle to solve and stamps to acquire. For instance, he has to figure out how to kill a cloistered monk in a monastery in the heart of New York City and he plans and executes (forgive the pun), a murder aboard a cruise ship, a trip upon which his wife accompanies him.

Along the way, we learn much about collecting stamps but Block serves the info dumps in small and tasty bites and he leavens everything with deadpan humor and some pretty good one-liners. Block makes us like and care about Keller and, most importantly, he makes us pull for him to succeed in his various endeavors. That's a pretty remarkable accomplishment, making a man with blood on his hands (and lots of it), a likable, nice guy character, someone you'd like to have a beer or two with.

HIT ME isn't an out-and-out comedy but it's light and breezy and a pure joy to read. It's the most fun you'll ever have in the company of a professional killer.