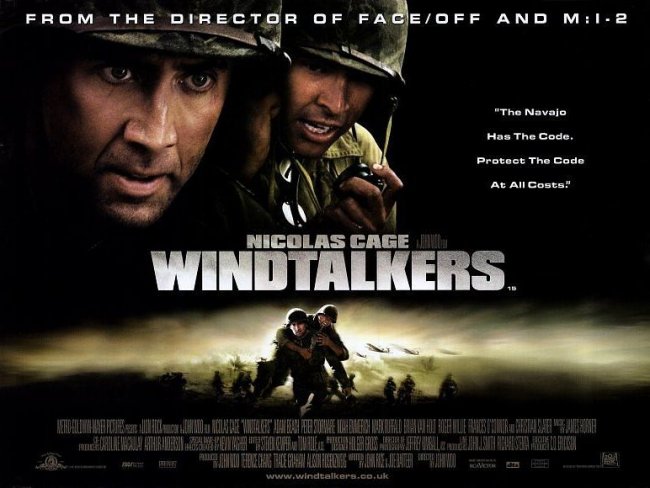 I watched WINDTALKERS (2002) the other day. It's the second film I've enjoyed in the Blu-Ray DVD format. Absolutely stunning picture and sound, so-so movie.

I saw this one in the theater when it was first released, mainly because I'm a huge fan of the work of director John Woo. My buddy Kelly Greene and I first got turned on to the Hong Kong cinema action maestro in the late 1980s when several of his films were screened at Hogg Auditorium on the University of Texas campus. The mixture of blood, bullets and balletic action that Woo brought to the screen in such classics as A BETTER TOMORROW (1986), BULLET IN THE HEAD (1990), THE KILLER (1989) and HARD BOILED (1992) were like nothing I'd ever seen in the cinema. It was a bit like being there at the dawn of the Spaghetti Western era as Hong Kong action films burned holes in American movie screens of the late 1980s.

Woo's success in his native Hong Kong got him noticed on an international level and it wasn't long before he came to America, seduced by Hollywood, bigger budgets and big name movie stars. But there must have been something in the water (either in HK or the U.S) because John Woo has never made a film in this country that is anywhere near as good as what he produced in Hong Kong. HARD TARGET (1993), BROKEN ARROW (1996), FACE/OFF (1997) and MISSION: IMPOSSIBLE II (2000), were all pale reflections of the overwhelming adrenaline rush contained in Woo's earlier films.

WINDTALKERS is a vivid case in point. The screenplay is based on true events from WWII in which Native American Marines used their native Navajo dialect to send and receive messages during combat, messages that the Japanese were unable to break and decode. The men became known as "code-talkers" and in the film, Nicolas Cage and Christian Slater play Marines assigned to protect two code-talkers. At all cost. Which means, if either man is about to be captured by the enemy, he's expendable.

Cage and Slater had both worked for Woo before, Cage in FACE/OFF and Slater in BROKEN ARROW and both do solid work here. Cage is front and center as a shell-shocked and partially deaf Marine sergeant who suddenly had the weight of command thrust upon him in an earlier battle and now suffers from PTSD. He heals enough to be sent back into combat where he's assigned to protect (and kill if necessary) Yazee (Adam Beach), a green young Marine and code-talker. Slater has a similar assignment.

The action soon moves to the invasion of Saipan and it's here that things start to go a bit wobbly. The Marines storm the beach and head inland across a terrain that is clearly Hawaii but once they're away from the coastal lowlands, the landscape suddenly resembles Southern California rather than a Pacific island. There are some CGI fighter planes thrown in but scenes showing battleships firing their guns are clearly stock footage.

Woo orchestrates the action through a pattern of intense combat sequences, then quiet, talkative, character building moments, then more action, then more talk, action, talk, etc. The battle sequences are well staged and Woo keeps his camera in constant, fluid motion, weaving in and out of the intense, at times hand-to-hand combat. And yes, at some point two characters point weapons at each other at point blank range. It wouldn't be a John Woo film without that signature visual flourish.

One interesting bit of trivia is the fact that Nicolas Cage and supporting player Mark Ruffalo would both go on to portray Marvel Comics super-heroes in films. Cage was the Ghost Rider in two films while Ruffalo portrayed Bruce Banner/Hulk in THE AVENGERS.

WINDTALKERS isn't a bad little film. I've certainly seen worse WWII movies. Woo fares slightly better here than in some of his other American produced films but the work still falls short of his best stuff. Still, watching WINDTALKERS in Blu-Ray was a breathtaking experience and if you want to check this one out, I strongly suggest you go with the Blu-Ray format for maximum enjoyment.