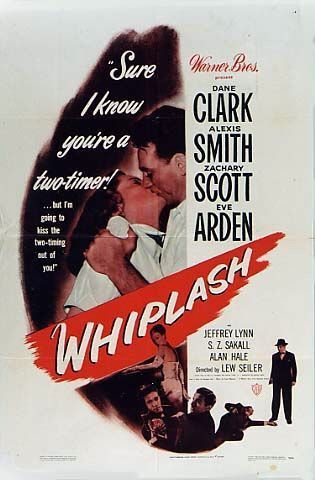 I watched WHIPLASH (1948) the other day, thanks to a recent broadcast on TCM which I recorded. This is another minor film noir produced by Warner Brothers in the late '40s.

Dane Clark stars as Mike Gordon, a painter in California. He's struggling to improve his art when one of his paintings on display at a local bar is purchased by a mysterious woman. Mike is determined to meet this woman and give her her money back because he doesn't think his work is good enough. He meets Laurie Durant (the lovely Alexis Smith), who refuses his refund and tells him she really likes the painting. Mike falls head over heels for Laurie who warns him that she's not right for him. Doesn't matter to Mike.

Then one day, Laurie leaves without saying goodbye. The only clue to her whereabouts is the painting, wrapped for mailing to a New York City address. Mike travels to New York, finds the address but the occupant of the building, a Dr. Vincent, is never at home. Mike rents a studio apartment in which to paint and becomes friends with his neighbor Chris Sherwood (Eve Arden as every body's gal pal, a role she excelled at playing). One night Mike and Chris and her Texas oilman suitor go to a nightclub where, lo and behold, the lounge singer is none other than the missing Laurie.

Mike goes backstage to see her and she once again begs him to leave. Mike won't go and he gets roughed up by some musclemen but he gives as good as he gets which causes him to be noticed by the owner of the club, Rex Durant (Austin's own Zachary Scott). Of course, Rex and Laurie are married but in addition to running the nightclub, the crippled Durant also manages boxers and he thinks Mike has what it takes to be a champ.

Mike reluctantly throws in with Durant. Since he's a painter and a boxer, Mike's ring name becomes Michael Angelo (get it?). The more fights Mike has, the more brutal and violent he becomes. Meanwhile, that mysterious Dr. Vincent that the painting was addressed to ? Turns out he's the doctor for Durant's fighters. He's also Laurie's brother and a hopeless alcoholic who is drowning his guilt in booze The cause of the guilt is the fact that Vincent operated on Durant after a near fatal car crash, an operation that while it saved Durant's life, left him crippled for life.

With this heady mix of forbidden love, a crooked fight game and a bottle full of guilt, things naturally come to an explosive climax in which both Dr. Vincent and Durant meet their demise. Mike returns to California to paint and Laurie finds him there at the end of the film.

WHIPLASH isn't a bad movie at all. The leads are good and they do their best under the direction of Lewis Seiler. The script by Harriet Frank, Jr. and Maurice Geraghty is solid if unspectacular. WHIPLASH is a better than average B movie and a very minor film noir. In fact, I'm not so sure that I would classify it as a total noir due to the happy ending. Noir or not, WHIPLASH is worth seeing at least once, especially if you're a fan of the genre.