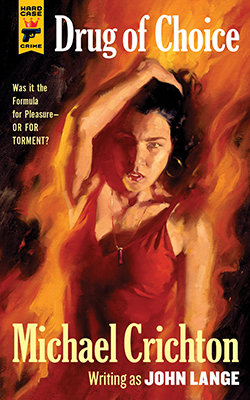 Hard Case Crime (my favorite book publisher) recently reissued (in handsome trade paperback editions) the first eight novels that the late Michael Crichton wrote while he was still in Harvard Medical School. Written under the pen name "John Lange", the novels are DRUG OF CHOICE, EASY GO, ODDS ON, SCRATCH ONE, ZERO COOL, THE VENOM BUSINESS, GRAVE DESCEND and BINARY. ODDS ON. Of these eight, two (ZERO COOL and GRAVE DESCEND) were previously published in mass market format by Hard Case. I've read both of those along with BINARY (I had a copy of the original Bantam paperback edition on my shelf for years without knowing that "John Lange" was really Michael Crichton).

I finished reading DRUG OF CHOICE on Christmas morning. I can't be too critical of this book because while Crichton was paid for his work, he was not at the time a full-time author. Bestseller status and major motion pictures were still a ways off in his future at the time he wrote this book (and the others) but even at this early stage of his writing career you can see that Crichton knew how to keep readers turning pages by offering a suspenseful plot based on current (or not too-far-distant) technology.

DRUG OF CHOICE starts out as a medical mystery when Dr. Roger Clark is presented with two different emergency room patients. One is a Hell's Angel biker, the other, a beautiful movie star. Both patients are in apparently drug induced comas and both eventually awaken with no ill after effects. Except for one thing: the urine of both patients is blue.

Clark soon becomes involved with the beautiful movie star as he tries to unravel the mystery of the blue urine. His investigation leads him to a scientific consortium known as Advance Industries, which appears to be involved with research and development of several different cutting-edge technologies. Among them, a Caribbean resort that appears to be a perfect paradise. Before you know it, Clark and movie star Linda are on their way to the island where, of course, everything is not as it seems.

This appears to be the first time that Crichton used the trope of a technologically advanced resort in which the technology goes awry with disastrous results, a theme he would later develop in the film WESTWORLD (1973) and his mega-bestseller JURASSIC PARK (1990). But the island paradise storyline soon runs its' course only to be replaced by a plot element in which Clark (now coerced into working for Advance) helps in the creation of a female pop star and her backing band. Again, this is a story element that Crichton expanded upon in his film LOOKER (1981). But the birth of "Glow Girl" is still not the end of this tale which ultimately finds Clark framed and on the run from his former friends and allies before he finally turns the tables on the evil mad scientists by blowing up the Advance Industries corporate headquarters

DRUG OF CHOICE is a fast paced, quick read although the ending does seem a little rushed. Crichton is already sounding the warning drum against the unintended consequences of modern science and technology and as I noted previously, he does keep you turning the pages. However his characters are cliched, the dialogue occasionally stilted and just when you think you know what the book is going to be about, Crichton throws in another idea that's never really fully developed. Still, DRUG OF CHOICE is worth reading if only to see how Crichton got his start.