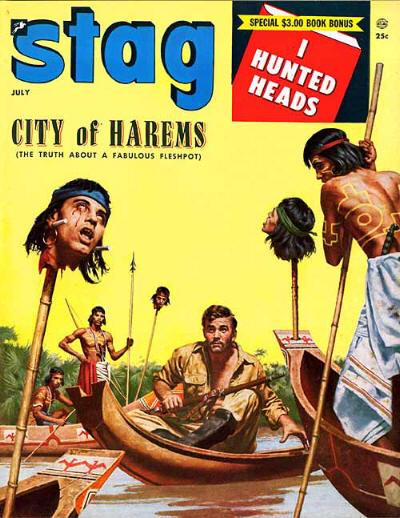 Here is the first of the several treasures I bought at Wizard World Austin Comic Con yesterday.

Pictured above is STAG Magazine for July, 1955. Regular readers of this blog know of my affection for vintage men's adventure magazines or "men's sweat mags" as they have sometimes been accurately called. I asked around at several dealer's booths yesterday in my quest to find some affordable men's adventure mags. I was directed to one dealer, Black Cat Comics, but alas, I don't recall the name of the gentleman I dealt with. He was a nice guy though and he gave me a fair price on the mag.

He had only one men's adventure mag for sale and it's pictured above. I bought it immediately. He told me that a few years ago he bought a pretty sizable collection (80 some odd issues) of vintage sweats, kept a few of the very best issues (the ones with Nazi bondage covers) and sold the rest on eBay.

Granted, I didn't canvas every single dealer at the con in search of men's adventure mags but I think the fact that only one of the dozen or so dealers I did check out had any of these for sale and only one issue to boot proves my theory that these babies are becoming harder and harder to find and if you're a collector of this material, you've got to buy them when and where you find them.

This one's a beauty with a great head hunter cover. I've already filed it away with my other sweats and in doing so, discovered that I have more issues of STAG (ranging from the early 1950s to the early 1970s in cover dates) than any other men's adventure magazine title.

More to come. Stay tuned.