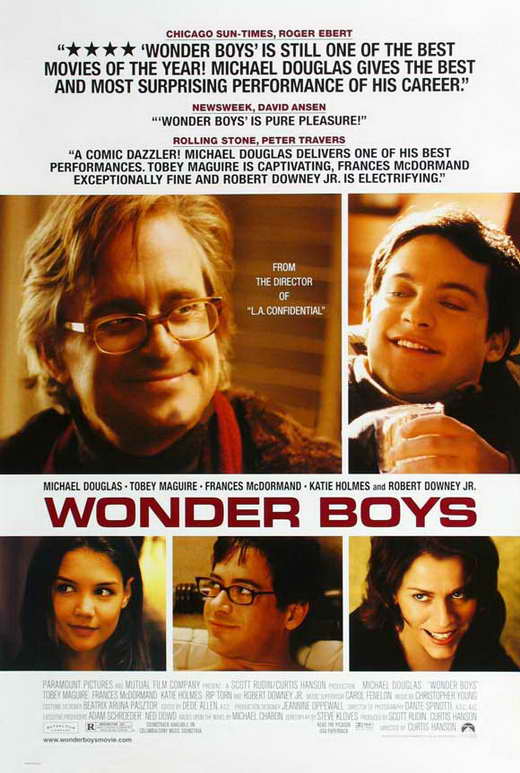 I have a signed copy of Michael Chabon's 1995 novel WONDER BOYS sitting on one of my bookcase shelves, alongside other Chabon works, some signed, some not. I had the opportunity to meet Michael Chabon several years ago when he spoke at Southwestern University in Georgetown. Judy and I were there to hear him and later, meet him and get some books signed. While he was signing my copy of his Pulitzer Prize winning novel THE AMAZING ADVENTURES OF KAVALIER AND CLAY (which remains to this day, the single best book, fiction or non-fiction, that I have ever read), I went into full blown fanboy geek out mode. I started babbling to Mr. Chabon about how much I loved KAVALIER, that it was the best book I'd ever read, that I'd waited my entire life to read a book like it and on and on. He smiled, graciously said "thanks" and shot a quick glance at Judy, which prompted her to add, "he's not kidding, he really loves your books."

I read WONDER BOYS shortly after I read KAVALIER, which would have been sometime around 2001 or 2002. I don't remember all of the details of the novel, but I do know that I enjoyed it immensely (although not as much as I enjoyed KAVALIER, but they're two completely different works and it's not fair to compare them). I also enjoyed watching the 2000 film version which I finally got around to seeing for the first time the other day.

Michael Douglas stars as Grady Tripp, a college writing professor and bestselling novelist with exactly one book to his credit. He's been working on his follow-up effort for several years now. Tripp's problem isn't exactly writer's block. He has no trouble writing. He has a great deal of trouble stopping writing and thus, his manuscript fills several boxes. He's being pressured by his editor, Terry Crabtree (Robert Downey Jr.), who's in town for a weekend writing conference. Crabtree is in danger of losing his job at the publishing company where he works and he needs Tripp to give him something he can publish and soon.

Adding to the mix is one James Leer (Tobey Maguire), a brilliant, eccentric student in Tripp's writing class. Leer is a remarkably gifted writer but he's also a pathological liar, constantly making up stories about his family and childhood. Leer attaches himself to Tripp and Crabtree for the weekend and all sorts of mishaps occur.

Oh, and let's not forget that Tripp's wife has just left him, Tripp's affair with the married chancellor of the university (Frances McDormand), who discovers that she's pregnant, the fetching young Hannah Green (Katie Holmes), another of Tripp's writing students who just happens to rent a room in Tripp's house, and the pompous bestselling (and sell-out) author Quentin Morewood (Rip Torn) who is the guest of honor at the writing conference.

Much happens over the course of the weekend, so much that it strains credulity slightly to believe that so many wild and wacky events could occur to these people over such a relatively short period of time. A lot of booze is consumed and a lot of marijuana is smoked. Sexual relations (gay and straight) take place. And Tripp drives around with a dead dog in the trunk of his car.

The screenplay by Steven Kloves does an admirable job of adapting Chabon's novel. As usual, the book is better but this is certainly a worthwhile transition from page to screen. Director Curtis Hanson (who did a magnificent job with L.A. CONFIDENTIAL) gets great performances from a powerhouse cast of talented actors and actresses. Douglas is outstanding as a writer going through a mid-life crisis and there's plenty of sly humor (and a few belly laughs) along the way.

As a comic book fan, I couldn't help but notice that four of the stars would later appear in comic book based, superhero films. Douglas is set to play Henry Pym in next year's ANT-MAN, Tobey Maguire played Peter Parker/Spider-Man in three Sam Raimi films, Katie Holmes was Bruce Wayne's (Christian Bale) girlfriend in BATMAN BEGINS while Downey has starred as Tony Stark/Iron Man in three IRON MAN films and two AVENGERS movies.

WONDER BOYS is a smart, funny film which somehow never found the audience it deserved. Although a failure at the box-office on first release, WONDER BOYS is well worth seeing. It does right by the work of Michael Chabon and makes this boy wonder: hey, are we ever going to see the long talked about film version of KAVALIER AND CLAY?