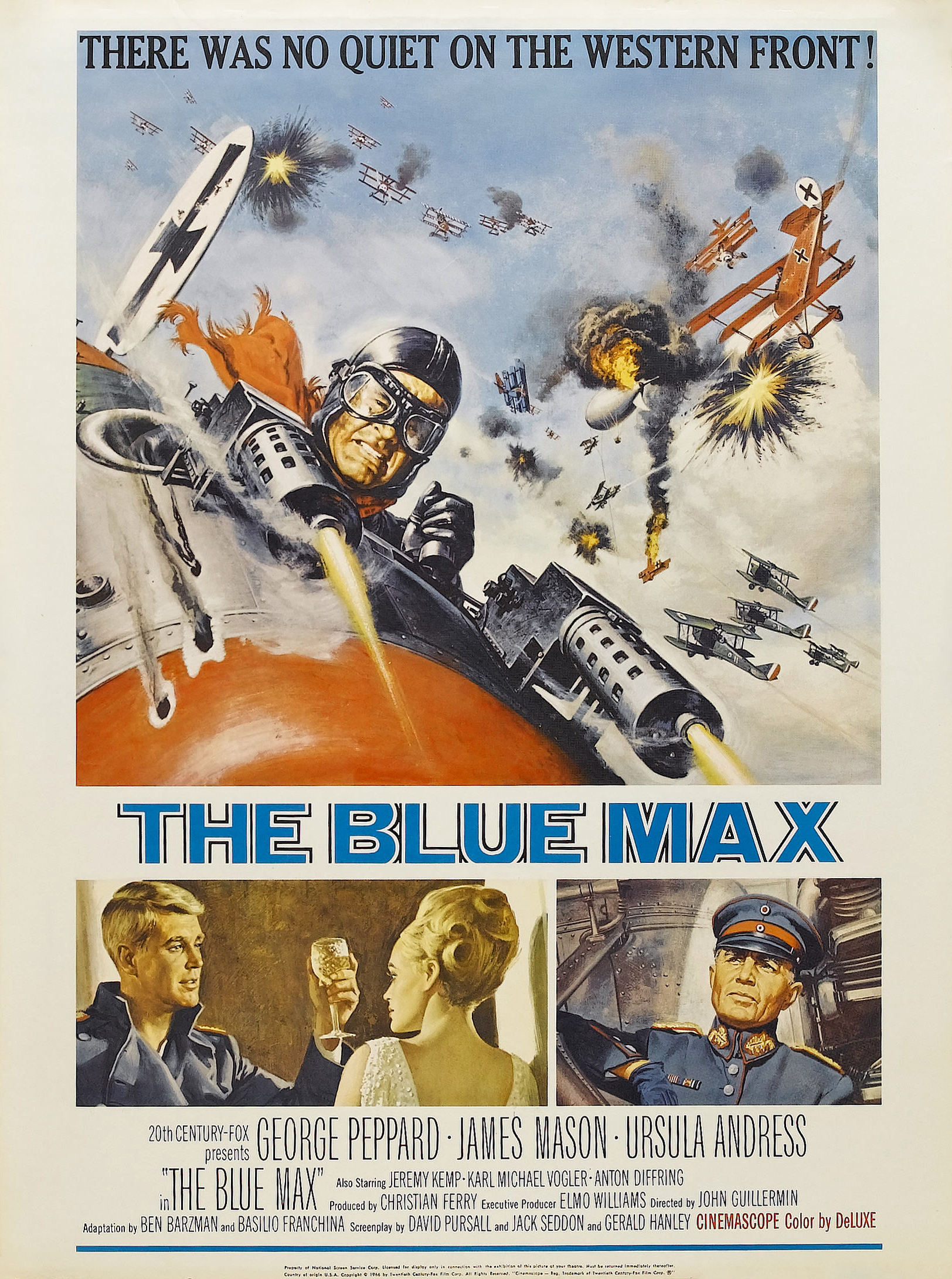 It is stuck in my memory that I saw THE BLUE MAX (1966) at the Varsity Theater on The Drag when it was first released. It was a Sunday afternoon matinee. Don't know why I can remember that. I just do. So it's somehow fitting that I recently watched this film for the first time since 1966 the other afternoon. And yes, it was on a Sunday.

THE BLUE MAX, with a screenplay by Ben Barzman and Basilio Franchina from the novel by Jack D. Hunter, tells the story of one Corporal Bruno Stachel (George Peppard), a German army infantryman at the beginning of World War I who yearns to become a fighter pilot and, more importantly, an ace (20 kills) along with the accompanying Blue Max medal of honor. He joins a German squadron where he immediately sets out to prove himself in air combat at any cost. He lies about his first kill and butts heads with both his commanding officer Hauptmann Otto Heidermann (Karl Michael Vogler) and the resident ace, Willi von Klugermann (Jeremy Kemp). Stachel is from common stock which makes his desire to equal and better his aristocratic squadron mates even stronger.

Stachel's exploits soon catch the eye of General Count von Klugermann (the great James Mason) and his wife, Kaeti (the breathtakingly beautiful Ursula Andress). The count sees Stachel as playing an important part in a propaganda campaign to win the hearts and minds of the German people by showcasing the achievements of a commoner among the aristocracy. Kaeti, on the other hand, just wants to sleep with Stachel. They do so but it's a relationship that will soon lead to Stachel's downfall. Stachel eventually earns the highly coveted Blue Max but when the count learns that he won it by cheating, he lets Stachel fly a dangerously unsafe new, experimental aircraft with disastrous results.

THE BLUE MAX is a big, old-fashioned (it's got an intermission, anyone remember them?) epic war movie. Director John Guillermin does a great job with the action both on the ground and in the air. Shot in Ireland by cinematographer Douglas Slocombe, THE BLUE MAX has a terrific score by Jerry Goldsmith and spectacular flying sequences with stunt pilots and vintage aircraft putting on a dazzling show. Peppard is a bit stiff but I've always liked the guy. Mason is, as usual, superb and Andress is simply too gorgeous for words.Thumbs up.